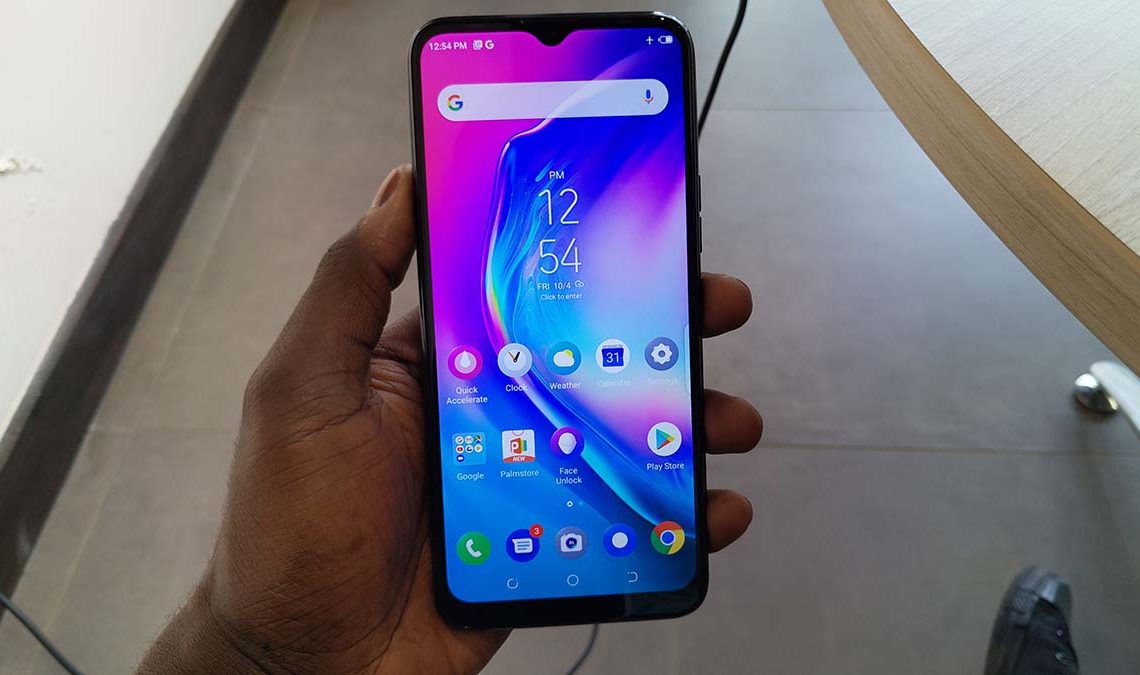 In late October, MTN Uganda partnered with Tecno to Launch the new Tecno camon 12, a flagship device in the Camon series.
The partnership according to the two multinational companies would collaborate in many ways as they serve the customers in their different rights but with a primary goal to serve both the TECNO and MTN customers better.
During the launch, Tecno officials promised users a better experience with the Camon 12 and a bigger upgrade from its predecessor, the Camon 11.
In this review, I break down the features and functionality of the Camon 12 while comparing it to the Camon 11, Camon 12 pro and the Phantom 9.
Appearance
The camon has a 6.52 HD+ IPS LCD Display (720×1600) with 20:9 aspect ratio with a water drop notch that houses a 16MP selfie camera with dual flash and ear piece.
Like in the Infinix Hot 8 which I recently reviewed, the device has no notification LED but has a charging indicator.
On the back, the Camon 12 has a 16MP main shooter, 8MP ultra wide lens and 2MP camera for depth sensing with a quad flash, finger print sensor and some TECNO branding.
On the left is a 3in1 tray that houses 2 4G LTE nano sim cards and an SD card.
On the right you have a power button and the volume rocker. The top is flat.
The bottom has a 3.5mm headphone jack, a mouth piece, a micro-USB port and a speaker.
The device's body and frame are made from a shinny polycarbonate material and the back side has a dark jade gradient color.
It has curvy edges hence easy to handle and if you use the TPU case that comes with it, you get an even finer grip.
Display
Just like the Camon 11, the Camon 12 doesn't use Amoled display which honestly is disturbing to comprehend considering the other strong features it possesses.
The Camon 12 Pro however possesses the Amoled display function which makes it a better choice if you are looking for crisp graphics. It also has an in-display fingerprint sensor which we last saw in the Phantom 9 and is lacking in the 12.
Away from the two down sides, it is not a terrible display, it is bright outdoors, very responsive to typing and gives better viewing angles.
You get different options like eye care, reading mode and again, if you are not a fan of the notch, you get an option to hide it. But why should you?
Settings
The device comes with 4GB RAM which is less than the 6GB RAM on the pro version but for its price, that is a good RAM.
It comes with 64GB storage which is expandable using a micro SD card. Of the 64GB, about 54GB are available to use.
The Camon 12 runs on Android 9 pie with the latest HiOS version 5.5.
Processor
Unlike the Camon 11 which ran with a Helio A22 quad core processor, the Processor in the Camon 12 is the helio P22 Octa core CPU with a processing speed of 2.0GHz.
The pro version also has the same processor.
I have used a Phantom 9, an Infinix Hot 8 and now a Camon 12 all of which use the same chip.
The one thing I can say about it is that it's more seamless and lag free if paired with ample RAM.
It doesn't get too hot and is very battery efficient because of its 12nM processing technology.
I don't game on mobile but for those who fancy to do so, you will enjoy a wide display, you will also get an AI mode that pauses any background activity so you can game with no interference.
Sensor and Face Unlock
The finger print sensor on the Camon 12 takes about half a second to unlock which is good and is always very accurate.
And although I don't like to use this feature, Face unlock takes a shorter time to unlock and skips through animations very quickly.
If you prefer to check your animations without having to unlock the phone, you can go to settings, security and switch to remain in lock screen.
Battery
About battery life, I was able to go through a day of constant use, mostly social media.
If you are gaming, you might get up to 10 hours of screen-on time.
Whereas the Pro version might seem a stronger phone, if you look at battery consumption you will come running to the 12.
It took me 3 hours and 30 minutes to charge from zero to full charge which is a very long time according to me.
Because of its battery capacity (4,000mAh), it doesn't support fast charging but for the screen-on time you will get, the charging time is justifiable.
Camera
The camera on the Camon 12 has the same triple camera configuration as is in the Phantom 9 and Camon 12 pro.
It has a 16MP primary camera, 8MP ultra wide lens and 2MP camera for depth sensing with a quad flash.
It gives excellent dynamic range shots and the ultra wide lens gives even better contrast. You will get a better focus when you go closer because of the macro mode.
The difference comes on the selfie camera.
Being a stand-alone 16MP lens, images shot on a Camon 12 selfie camera are not as sharp as those of a Phantom 9 or a Camon 12 pro which have a 32MP lens.
The Camon 12 shoots videos in 1080p which is not bad at all. If you are considering micro-vlogging, this could be your starting point.
Verdict
The Tecno camon 12's biggest strength is at its price (between 569,000/=).
Away from its selfie camera and and lower storage, I would recommend this before the Phantom 9 or the Camon 12 pro.
Comments
comments