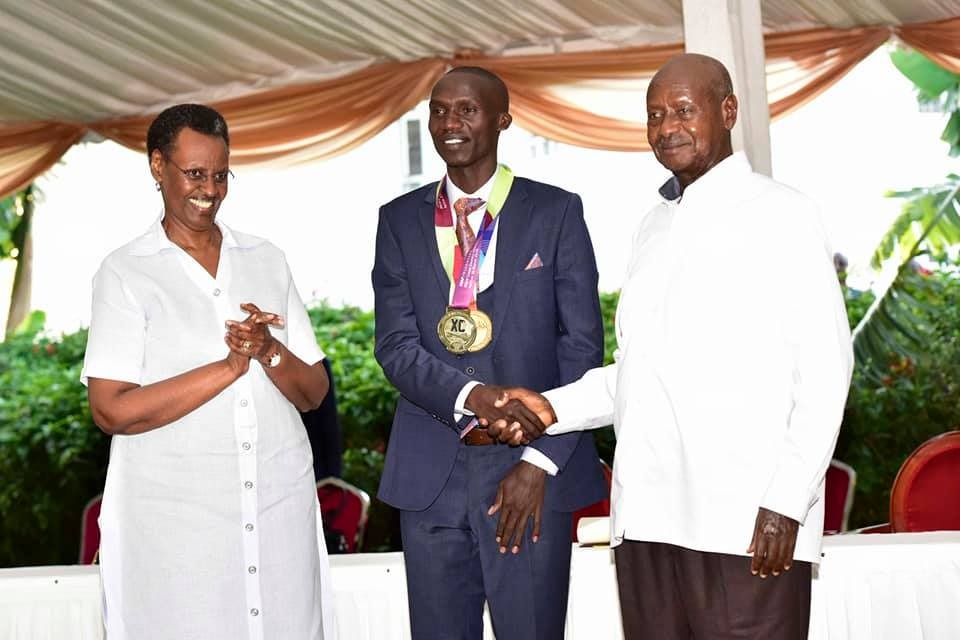 President Museveni has promised to build houses and buy cars for athletes who win gold. The President made the promise during a luncheon at State House.
He said, "The government will also build a house and buy a car for athletes who win gold at international championships like the Commonwealth or the Olympics."
The luncheon was attended by the he First Lady Janet Museveni, who is also the minister for Education and Sports.
"If an athlete wins a gold medal at either continental or global championship, they are entitled to Shs5 million monthly salary, silver is Shs3 million and bronze Shs1 million," the President said.
Museveni echoed his pride concerning the successes of athletes like Joshua Cheptegei and others in attendance.
He said the government has not been supporting sports directly because of other pressing needs.
"What we are doing is indirect support through infrastructure development, stability and others. Interventions like immunization and universal education have also been helpful."
"However, we shall incrementally commit more resources to sports. I have directed that excelling sportspeople be absorbed in the armed forces so that they get a salary, an address and technical support through coaching."
The President said government is going to start building Aki Bua Stadium and another in Kabarole. 
"In the long run, all the traditional 18 sub-regions of Uganda will get a stadium each. Nakivubo Stadium is also being rehabilitated by an enterprising young Ugandan businessman. I will personally follow up on the issue of delays to complete Teryet High Altitude Training Centre. I do not buy the explanation that the rains are responsible for these delays and yet money is available. I think some unscrupulous people are intentionally delaying this project. I will get to the bottom of it," he promised.
Comments
comments