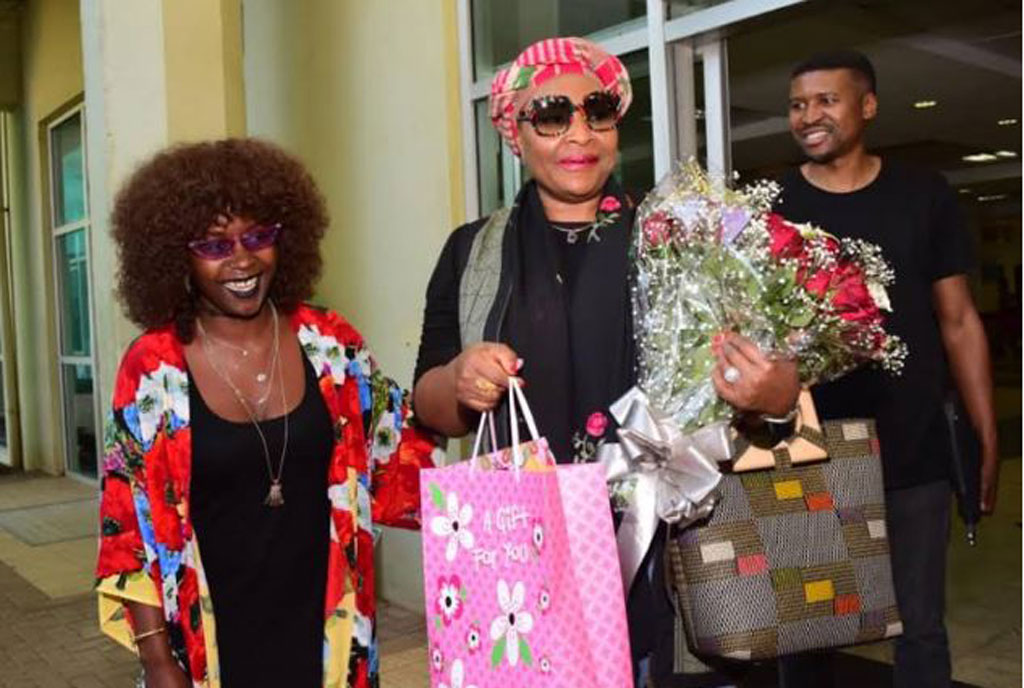 Joint security and immigration officers on Tuesday December 31 arrested and deported South African songstress Yvonne Chaka Chaka, hours before the annual Buganda Kingdom's 'Enkuuka Y'omwaka' show which was organized by CBS FM.
The concert was slated to take place at the Kabaka's palace in Bulange, Mengo.
Chaka Chaka who was residing at the Pearl of Africa Hotel in Kampala was roughed up arrested and escorted back to Entebbe airport from where she was sent back home.
Police Speaks Out
In his address on Tuesday evening, Police spokesperson Fred Enanga said that the artiste had been deported on grounds that she didn't have a working visa to Uganda.
"This is to inform the public that a security task team in close coordination with immigration officials has escorted Ms. Mhinga Yvonne, popularly known as Chaka Chaka to Entebbe International Airport, where she boarded her next immediate flight to South Africa, via Kigali," Enanga said in a televised press briefing.
He added that the Musician had initially been granted an ordinary visa which was cancelled by immigration officials after it was realized that she had come as a performing artiste in one of the New Year events.
Enter Bobi Wine
This website understands that Chaka Chaka is a staunch supporter of Kyadondo East legislator Robert Sentamu Kyagulanyi – Bobi Wine who recently declared his intentions to challenge incumbent President Yoweri Museveni in the 2021 general elections.
Because of this, several analysts claimed that this was what motivated the security forces and the immigration office to deport the artiste who had already been allowed in the country.
Bobi Wine's shows have suffered bigly at the hands of the security forces as most of them have been repeatedly canceled while others get sabotaged.
This, the police do, because Bobi Wine has a tendency to turn musical shows into political rallies, a reason that is believed to have led to the deportation of Chaka Chaka.
Refusal to Meet Museveni
The Tower Post has also learnt that the legendary music icon turned down a State House request to meet President Museveni prior to the concert.
Reports indicate that security forces had planned to briefly fly Chaka Chaka in a UPDF chopper from Pearl of Africa Kampala to Museveni's ranch in Kisozi where he had gone for holidays.
But the singer declined to honor the President's request which is believed to have fueled her deportation.
Museveni has previously hosted a number of international singers visiting Uganda for a brief engagement before they continued with their agendas.
In October 2018, Museveni hosted American star rapper Kanye West together with his wife and international reality TV star Kim Kardashian.
The latest artiste to be hosted by the President was Congolese Lingala singer Kanda Bongo Man who was flown to Kisozi on a jet.
Comments
comments