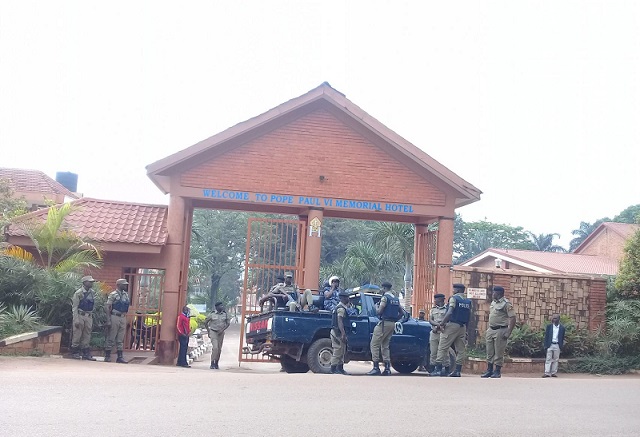 The police have deployed heavily at Pope Paul Memorial Hotel in Kampala where Robert Kyagulanyi otherwise known as Bobi Wine was scheduled to have a consultative meeting regarding his presidential bid on Monday.
The meeting has not kicked off yet as police say that Bobi Wine has not yet met all the requirements needed.

Talking to the press, deputy police spokesperson, Polly Namaye said the police proposed a 10 point strategy to be followed which has not been submitted to the force.
"On January 31 and February 18, 2020, the director operations wrote to remind honourable Kyagulanyi to submit these proposals but this has not been done," Namaye relayed.
Adding, "The police therefore still await the assurance that there shall be an effort to respect law and order by abiding with agreed-upon strategies in order to embark on the team's consultative meeting schedule."
Namaye says the consultative meetings will only happen if Bobi meets the requirements.
It is not the first time Bobi Wine is clashing with the police over the same matter. The police foiled his consultative meetings in January, forcing him to postpone the.
Comments
comments