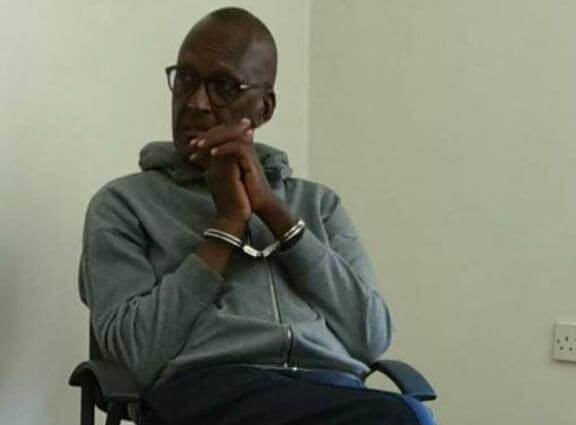 The Police have disclosed their decision to put former security minister,  Lt General Henry Tumukunde on handcuffs.
In a rare picture, the presidential aspirant appeared seated cross-legged on an office chair with his hands handcuffed which left the public questioning the police's decision to handcuff a General.
Speaking to the press, Police mouthpiece, Fred Enanga said that the retired general had become rowdy during his arrest. Enanga also added that they could not handle Lt. General Tumukunde any easier given his high sophistication of the military arsenal.
"He was violent and aggressive. In one incident, he shoved and pushed a senior police officer," Enanga said
"We also took into consideration his military background and because he is a trained officer, we feared he could have gotten access to a weapon and harm those involved in the search at his home."
Gen Tumukunde was arrested on Thursday night by a joint team of Military and police operatives led by CID director Grace Akullo and  Mr Elly Womanya, Head of special investigations division of Kampala after declaring his intention to stand for the seat of presidency in the 2021 general elections.
The General who has since then been under Custody is charged with making treasonous utterances while appearing on a local television.
Tumukunde called for support from the neighbouring country. In his own words General Tumukunde said "If I were Rwanda, I would support the opposition in ousting the current regime in Uganda with or without the ballot"
According to the police, this tantamounts to treason and he must answer these charges.
Tumukunde is, therefore, being charged under Sections 23 (2) b and 23 (3) b, of the Penal code Act, which deals with instigating persons to invade the Republic of Uganda and inciting any persons to make a mutinous assembly.
Comments
comments