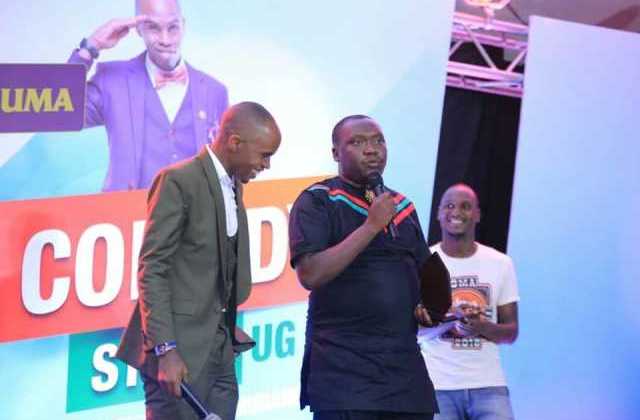 Patrick Idringi alias Salvador together with other comedians have come out to show support and stand in solidarity with Comedy Store proprietor Alex Muhangi who has recently been taking fire from a sect of other comedians led by MC Kapale.
Muhangi who recently took on a singing career has been under attack from comedy duo Mighty family and MC Kapale who accused him of being behind the 'kidnap' of Sammy (one of the Mighty Family comedians).
They alleged that Sammy was kidnapped because of a clip he did praising Bobi Wine and abusing the person of President President Museveni.
This led to a smear campaign against Muhangi and his Comedy Store with claims that Muhangi led to Sammy's said arrest and torture. But in a turn of events, public opinion is now that he [Sammy] kidnapped himself for public sympathy.
Also, a series of video clips posted online have shown Kapale attacking Muhangi for stopping him from soliciting money from revelers at comedy store, a habit that Kapale had made regular through all of his performances.
"Comedy Store Uganda is by far the most successful and influential comedy club in Uganda, and Alex Muhangi has done an exceptional job, unfortunately not everyone will see his hard work but the success and that always brings about jealousy," Salvador who was previously rumored to be at logger heads with Muhangi said.
"I just thank him for his consistency and he should expect more of these, just keep your head up high and keep on doing what you do best, the words will come but your works will shut them down," he added.
Fellow comedians Agnes Akitte, Kalela and Omukebete have also come out to laud Muhangi for the efforts he has put to help groom young talent and raise the bar in terms of payment per performance for comedians.
"Nze anything that involves Kapale, I think thrice! As for that Okanya Sam, I hope he comes out and clears Muhangi's name. What he did is very bad!!!" – Agnes Akite who is one of the biggest lady comedians in the industry said.
"I'm lucky to have him [Muhangi] as my Comedy buddy. With my vast experience in the industry, I still take Alex as a mentor and role model in the comedy craft that why I mind less about what others say about him. Keep going," another comedian Ssegujja Herbert Ssabasomesa said.
Muhangi is yet to come out with a comment about the issue.
Comments
comments