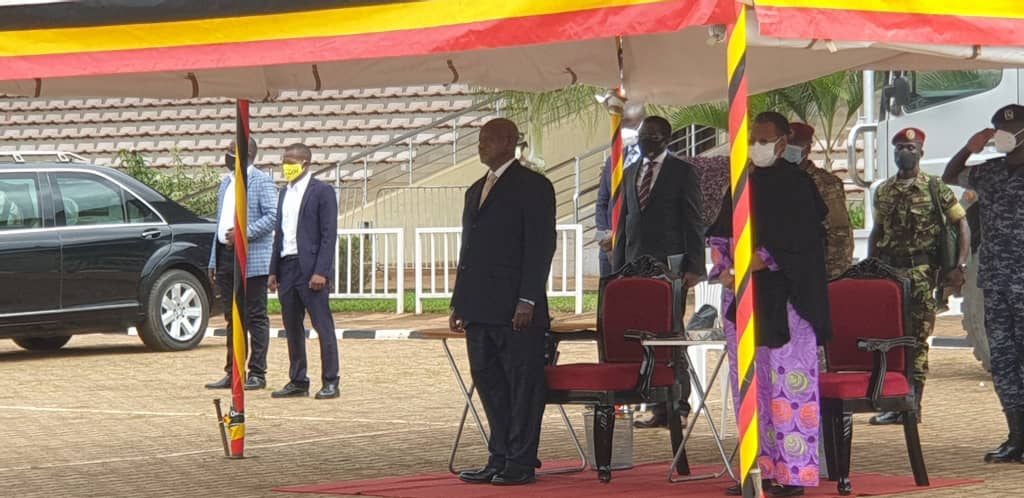 President Yoweri Museveni has praised fallen Kampala Archbishop Dr. Cyprian Kizito Lwanga as a patriot who was one of the "bayekera" sympathisers during the National Resistance Army bushwar.
Museveni was Tuesday speaking at the funeral service of Archbishop Lwanga held at the Kololo Independence grounds.
"I used to be friends with Cardinal Nsubuga [Emmanuel Kiwanuka] and he introduced me to Cyprian. Even after the end of the bushwar in 1986, we mwt in Kyankwanzi and have been friends," Museveni said.
"When he became the Bishop of Kasana Luwero in 1996, I was very happy because I knew he was a good person."
Museveni lauded the Archbishop for his efforts in fighting poverty in the Greater Luwero region which he said have since spread all through the catholic faith.
"I appreciated his microfinance project which he started with his salary (Twekembe) and it's now helping many other people."
"That was some of the issues I used to have with fellow Christians because some of them had read the portion about birds of the air that neither sow nor harvest but the son of man feeds them and this had misled them to become lazy."
"I am very happy nowadays, church leaders are spearheading the effort of wealth creation – to know that as part of being true to your faith, you must work to get rid of poverty."
The President tasked the Archbishop's doctors to explain the cause of his death citing that the condition was well known.
"His doctors at some point will have to give an explanation to some audience because the condition that killed him is well known."
"I spoke to my young doctor Diana Atwine and she confirmed to me that the condition has been existent and is very well known. If it's well known, what do you do about it? The doctors should explain."
Comments
comments