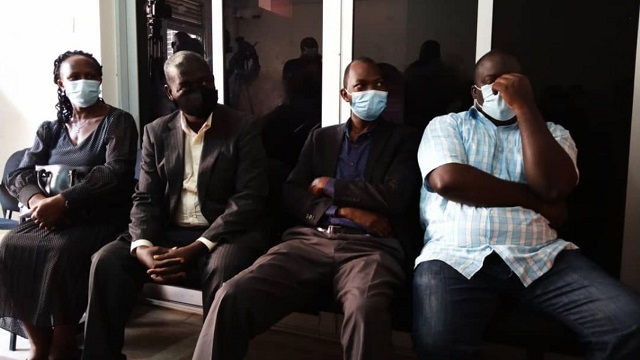 The Anti-Corruption Court has charged four officials from the Ministry of Education and Sports with conspiring to solicit a bribe of 228 million shillings.
The four are Fredrick Edward Lubinga, an architectural assistant, Doreen Matovu Lwanga, the acting Head Construction Management Unit, Hajji Abdu Nsubuga, the Project Management Professional and Solomon Kaigia, the Project Coordinator.
The quartet appeared on Wednesday before the Anti-Corruption Court Grade One Magistrate Moses Nabende who charged them with five counts related to corruption, abuse of office and conspiracy to defraud.
According to prosecution, the suspects between August 2019 and March 2020 using their respective offices conspired to defraud Robert Nsimbe Zizinga, the owner of Synergy Enterprises Limited who had been contracted to construct structures at Nyamitanga Vocational Technical Institute in Mbarara City.
The officials allegedly demanded 10 percent of the contract price which was worth 2.28 billion shillings to facilitate the award of the contract to Nsimbe Zizinga's company.
Evidence before the court shows that the prime suspect Lubinga first solicited a bribe of 50 million shillings and later received 25 million shillings for the deal.
The evidence also shows that on her part, Lwanga who had been appointed as the Contract Manager of the Uganda Skills Development Project, Bushenyi Cluster irregularly issued variant contract terms and specifications to the contractor without following the Public Procurement and Disposal of Public Assets-PPDA laws and contract management, thereby frustrating and stalling construction works at the Institute.
It is alleged that the suspects started making changes in the project designs to pressurize the contractor to pay them the balance of the 10 percent and as such, the design changes were costly for him which stalled the works.
Lwanga also faces another alternative count of corruption for having neglected her duty as a Contracts Manager to inspect and approve the construction materials at the construction sites thereby compromising the quality of the construction.
However, they all denied the charges and through their lawyers led by Richard Rugambwa asked to be released on bail on grounds that the charges were bailable.
———————-
By: URN
Comments
comments