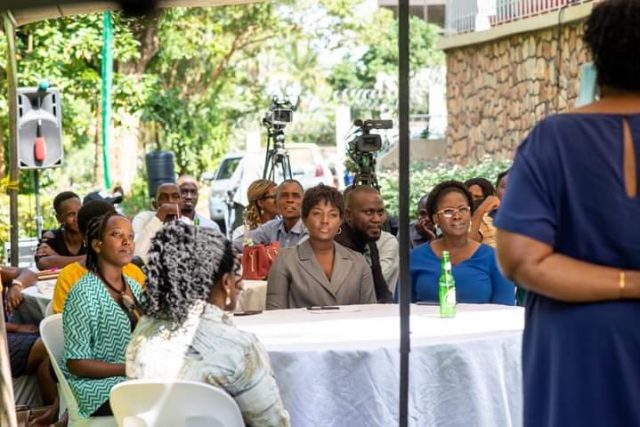 Early Years Foundation was part of the celebrations of the International Day of the African Child.
The function which was in form of a media café was held with support from the Aga Khan Foundation who were also hosting it at their headquarters. In attendance were members of the media, educators, as well mental health wellness practitioners.
It was characterized by key note addresses, Question and answer sessions, and networking/ interaction for all in attendance.
 'Today we have come to talk about our roles as caregivers to see that we are better aunties and uncles, better bigger siblings, parents, and as journalists to report better when it comes to reporting about content relating to children's affairs.' Said Nakanjako Immaculate, the Early Years Foundation Uganda Programs Manager in her welcoming remarks.
On how traumas develop among children, Dr. Janet Nakigudde from the Makerere University College of Health Sciences, and Behavioral Scientist while addressing those in attendance echoed that behavioral partners start from when a child is young, and what they experience while growing up is what they carry on; since children are what they see and are given while young.
Speaking at the event, Manuela Mulondo Pacutho; the Team Lead at Early Years Foundation Uganda, the event was organized to commemorate the International Day of the African Child which is celebrated every 16th of June.
'This year, the theme has been 'Eliminating Harmful Practices affecting Children', Childhood Traumas and the role of care Givers'; and so we invited the perpetrator of these harmful practices; that includes parents, it includes educators, caregivers, people that are in the lives of children but more importantly the media, who will help us reach those perpetrators of this harmful behavior.'
She while addressing the media added that they did realize this gap when COVID and the lockdown happened where there were many cases of child abuse, and trauma reported; and listed homes, and schools as the leading causes of trauma among children.
Claire Nakato refers to childhood trauma as a silent pandemic, that often lasts lasting consequences. She highlighted that these traumas subsequently lead children into growing up with low self-esteem, some ending up as 'people pleasers', withdrawing from social settings, having trust issues, living in constant fear, self-doubt, and being suspicious of feedback.
She further highlighted silent treatments, shouting at someone, and excess anxiety as some of the triggers of child trauma.
Elizabeth Akello from Mildmay Uganda who also doubles as the President of the Counselling Association emphasized on the importance of a mindset shift and the need to ditch the old African belief that 'the ears of an African child are on the buttocks, implying that children can only be corrected by beatings yet children are people too and instead need to be talked to instead.
In her concluding remarks on how to know as a parent that you are going overboard in your reaction, Manuela encouraged parents to change parenting styles and raise their children with love, and avoid acting out of anger and emotion and they can do this by first of all tuning into their inner selves and find out their own weaknesses.
Comments
comments