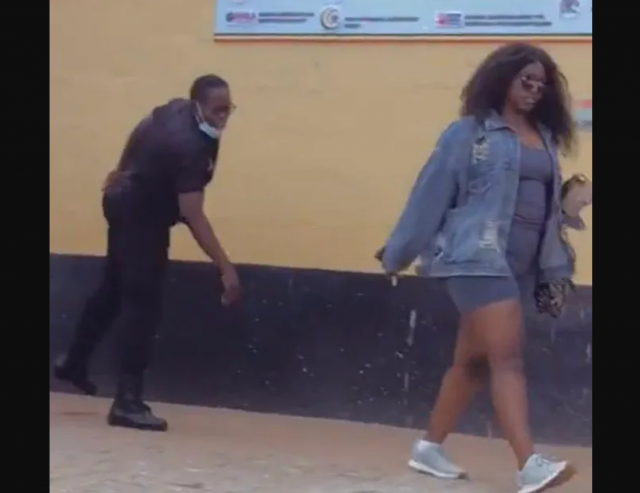 The Ministry of Internal Affairs has come out to make a comment on the recent incident where security chased singer Winnie Nakanwagi popularly known as Winne Nwagi off the Ministry's premises last week.
A video which appeared on Social Media showed the singer being chased away from the Ministry's premises as other people who had cued in lines watched on.
The video went viral attracting mixed reactions from the crowd with some calling on the artiste to dress decently while most castigated the Ministry for what they called selective treatment.
But Simon Mundeyi the Ministry of Internal Affairs' spokesperson said that the singer was barely naked which is why she was sent away.
"The way she was dressed disturbed these children who were with their parents. She was putting on very shot patra pants portraying her thighs. She also put on a jacket but had several holes and the breasts were literally out and being exposed to the public," he said.
"This kind of dressing disturbed young kids and it was brought to the attention of the security personnel at the ministry," Mundeyi added.
He clarified that the Ministry has a strict dress code which they expect every person visiting them to follow.
"Her [Winnie Nwagi] dressing was against our policy on dressing code. She was barely naked. We don't entertain naked artists at our offices," Mundeyi said.
He further explained that when security tried to speak to Winnie Nwagi, she hurled insults and obscene words to them as she defended her dressing code.
"Our offices have a dressing code that welcomes in-laws, children, religious leaders, and all kinds of people. We turned her away for dressing indecently. Let her dress properly and we will not turn her away."
Comments
comments