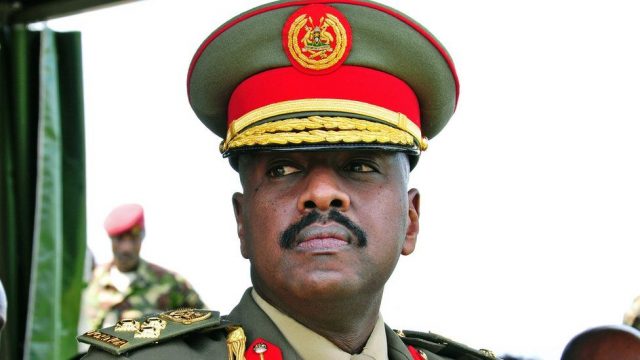 First son Muhoozi Kainerugaba has been dropped from his position as the commander of the UPDF Land Forces, The Tower Post reports.
Kainerugaba who has been heading the Land Forces since his appointment in June 2021 has been replaced by Lt. General. Kayanja Muhanga who was also promoted from Maj. General to Lt. General.
In the changes announced on Tuesday afternoon by UPDF spokesperson Felix Kulayigye, Kainerugaba was promoted from Lt. General to General.
"H.E. President and Commander in Chief of the Uganda People's Defence Forces has promoted and appointed General officers as follows;
"Lieutenant General Muhoozi Kainerugaba promoted to General and continues with his duties as Presidential Advisor for Special operations,
"Major General Muhanga Kayanja promoted to Lieutenant General and appointed Commander Land Forces," Kulayigye wrote in a statement released Tuesday afternoon.
Muhoozi's removal from Land Forces comes in the wake of Social Media feud between Ugandans and Kenyans on Twitter following the first son's tweets about capturing Nairobi.
"It wouldn't take us, my army and me, 2 weeks to capture Nairobi," he tweeted on Monday.
He however was quick to retract his statement saying he "would never beat up the Kenyan army because my father told me never to attempt it! So our people in Kenya should relax!"
The new commander of Land Forces Lt. Gen. Muhanga is currently commanding the ongoing Operation Shujaa in the Democratic Republic of Congo where they are fighting against Allied Democratic Force – ADF insurgents.
Comments
comments