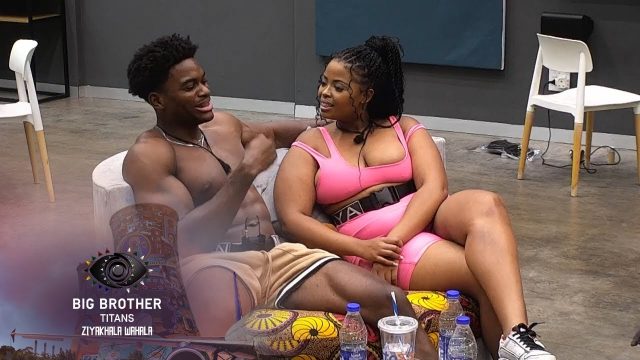 And just like that, Marvin and Yaya – known together as Maya – are out of the Big Brother Titans game.
Coming out lucky and beating eviction this week were Blaqboi & Ipeleng (Blaqleng), Juicy J & Olivia (Juiovla), Blue Aiva & Kanaga Jnr (Kaniva), Khosi & Miracle OP (Khosicle), and Yemi & Nelisa Cregx (Yelisa).
16 housemates are now one week closer to that coveted US$100,000 grand prize.
Although evicted, Marvin and Yaya continued to show unity as a team during their sit-down with co-hosts Ebuka Obi-Uchendu and Lawrence Maleka.
Yaya said she was disappointed to be leaving the house: "I feel like we could have had a really good run. I'm gonna miss this guy, man. He's made my journey so easy in the house." Turning to Marvin, she said: "Thank you. You are literally my best case scenario in the house."
When pressed if the feeling was mutual, Marvin said: "[From the moment we met] we had a connection. We just got attracted to each other. She's so easy to talk to. I said to her, 'you're god-sent'. And she really is."
This past week gave us some overdue bonding, camaraderie and unity between housemates, but not without #BBTitans bumps in the road, of course, with some tension still present and shade being thrown.
The housemates, including this week's Head of House Thabana (Thabang and Nana), enjoyed a saucy and sweet Valentine's celebration where they charmed, fed and dressed up for each other. They also showed each other love by opening up to – as well as complimenting – one another.
For their wager, the housemates formed a united nation named Ziyahala, and their presentation, flag and shared history were conceptualised so well that it impressed Biggie enough to give them a win.
As always, the week was topped off with the Thursday Pool Party, Friday Night Arena Games and the Saturday Night Party, this time presided over by DJ Josiah De Disciple.
While it might have been a mostly positive time in the house, but who knows what tomorrow will bring? As co-host Ebuka said at the beginning of the live eviction show: "They broke bread and showed love, but the game continues."
Whose game will it be this week?
Catch Big Brother Titans live, 24/7 on DStv Channel 198 and GOtv Channel 29. It's
also streaming on Showmax in more than 50 territories, including the United
Kingdom and New Zealand. Keep up with the conversation with the hashtag
#BBTitans, visit dstv.com/bigbrothertitans, and follow @BigBroAfrica on Twitter,
bigbro_africa on Instagram, @BigBrotherAfrica on Facebook, and @bbtitans_official on TikTok.