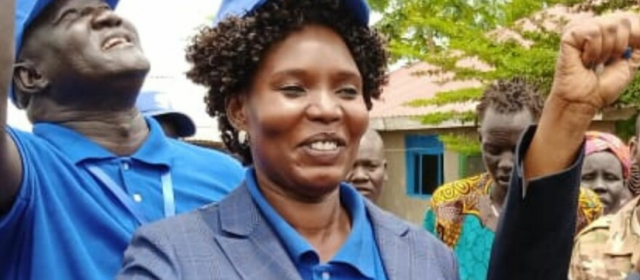 President Salva Kiir Mayardit on Wednesday night reinstated the speaker of Jonglei State Legislative Assembly four months after he unilaterally sacked her.
In a presidential decree read on the state-owned television, South Sudan Broadcasting Cooperation (SSBC), Kiir reinstated the SPLM-IO nominated Speaker Amer Ateny Alier.
Ateny was fired by the president without reasons being given in January.
The move sparked condemnation from the SPLM-IO and civil society outfits who said her dismissal was a unilateral decision and a violation of the 2018 revitalized peace agreement and at the time warned that it would derail the peace deal.
The presidential decree reinstating Ateny did not give any reasons but the Facebook page of the office of the president in the evening stated that President Kiir and First Vice President met earlier in the day to discuss "a wide range of issues."
"The Minister of Presidential Affairs, Dr. Barnaba Marial Benjamin said the meeting resolved challenges and outstanding issues of concern," it said.
The day she was dismissed, Amer Ateny Alier said that the revocation of her appointment might have been due to her demand for salary arrears for state employees.
"My dismissal is a culmination of a long-running conflict between me and the Jonglei governor for standing for our people over the issues like unpaid salary arrears, his continued absentia in the state for months, and that of an impeached minister who still serves in defiance," she said in January. "What surprised us in SPLM-IO is that there was no prior consent before the decree. If the president knows what is happening in Jonglei State, I believe he would stand with me for being a voice of the people."