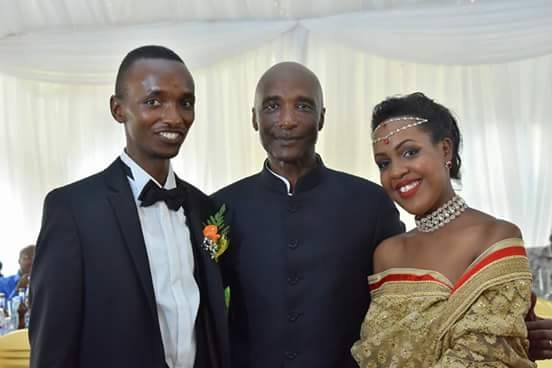 Blaise Kamugisha, the National Coordinator of the Crime Prevention Movement and the Executive Director of the National Crime Preventers Forum, was at the weekend in Rukungiri for a giveaway of his intended.
For those who only think that crime prevention is only a group for only misguided making noise during elections, Blaise Kamugisha the crime preventers' boss is here to disapprove you.
Bugyera- Kitojo in Buyanja Rukungiri district was the reception of the beautiful Racheal Kirabo and Blaise Kamugisha at her give away ceremony. The Towerpost snoops at the function revealed that the function was attended by high level dignitaries including police top bosses to witness their son and daughter become one.
"Here I come, I have your daughter. Please allow us to make a family toge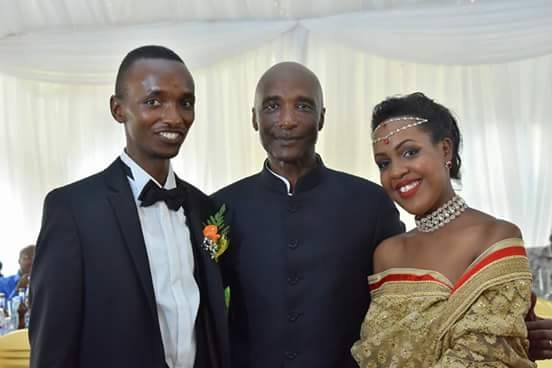 ther" Blaise Kamugisha
The Police Inspector Gen. Kayihura Edward graced the occasion. He was accompanied by AIGP Felix Andrew Kaweesi, police spokesperson and Director Human Resources of police, ACP Anatoli Muleterwa, and former Kampala Central Police Station DPC Aaron Baguma and SP Jackson Mucunguzi of Makerere among others.
Blaise Kamugisha boasts of a mass movement of Eleven Million Crime Preventers (allegedly) with a Network up to village level in all parts of Uganda.
Blaise is from a peasantry background of late Bernard Kamugisha and Justine Kemigisha of Isingiro District in Western Uganda. For those who have seen Kamugisha grow say that he has been a great learner who always wanted to learn from old people in his village. He has been raised by a single mother after the demise of his father in his early childhood years.
Kamugisha attended Kabateraine Memorial School in Mbarara District and completed from Kitooma Primary School in Isingiro District in western Uganda from where he later went attended Eden International School. He then joined Mbarara High School-Chapa from where he attained Uganda Certificate of Education (UCE) and Uganda Advanced Certificate of Education (UACE).
His leadership career is traced from a far as snoops revealed to the Towerpost that Blaise was Head Prefect at Kabateraine Memorial School, served as Deputy Head Prefect at Eden International School and Mbarara High School at O'level in both schools. He became the Chairman School Council at Mbarara High School and later became President UNSA-Greater Mbarara.
While at Makerere University where he is currently pursuing a Bachelors of law at Makerere law school, Kamugisha served as NRM Chairman Makerere University Chapter.
At the Towerpost, we congratulate Blaise Kamugisha and Rachael Kirabo for standing out of the crowd to say hey there, "we are formalizing our bonking". At the Towerpost we say, that the arithmetic of love, one plus one equals everything, and two minus one equals nothing. Enjoy