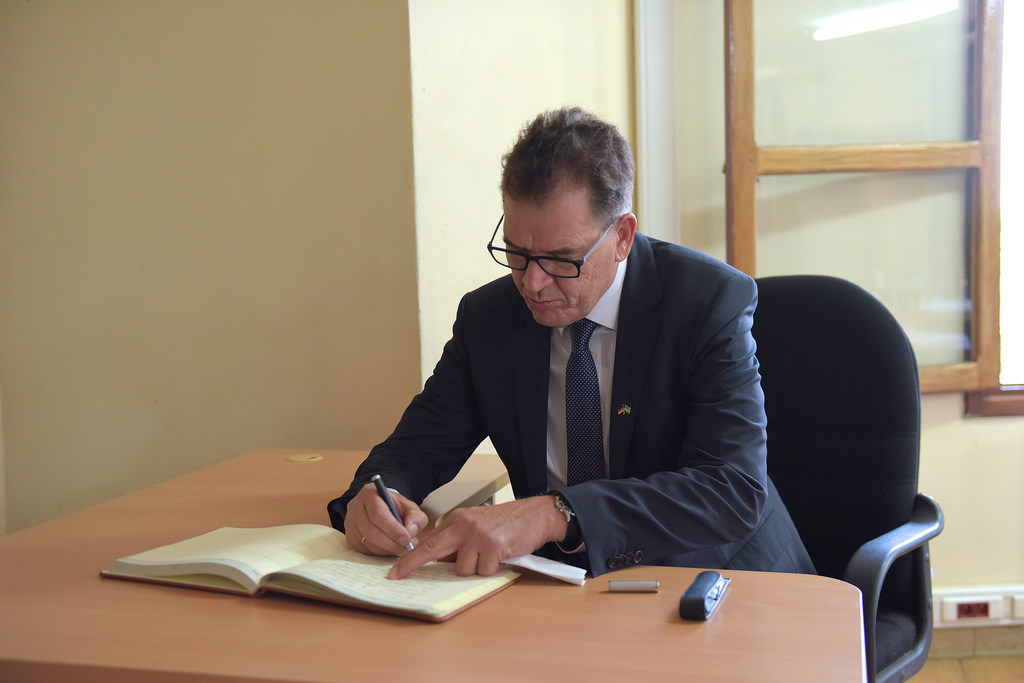 The German Federal Minister for Economic Cooperation and Development, Gerd Müller, has unveiled Germany-proposed "Marshall Plan" to address the continent's economic challenges.
Briefing the African Development Bank Group (AfDB) leadership about the plan in Abidjan on Thursday, Müller noted that while Africa remains a continent of opportunity with very dynamic development and a strong and promising youth, it faces many challenges.
The continent, he said, would have to create 20 million jobs per year and expand training and education facilities for a growing population expected to reach 2 billion by 2050.
This scenario, he said, calls for a new initiative with the dimensions of a "Marshall Plan with Africa (not for Africa)," a term, which, he said, underlines the strong concerted efforts from Africa, its partners and the global multilateral system.
With the African Union's 2063 Agenda as the framework, the minister said the plan will focus on economic mobilisation, education, training and entrepreneurship programmes that would give millions of Africans better prospects that are vital for Africa's future and for Europe and the world.
The blueprint proposes a "new level" of equal cooperation between Africa and western countries in areas such as education, trade, business development and energy.
It also calls for better and more equitable market access for African exports, an end to illicit financial flows from Africa and tax evasion by multinational companies. The plan, he said, would further support the development of agricultural value chains within African countries to enable them derive appropriate benefits from the products, citing cotton in Burkina Faso and cocoa and coffee in Côte d'Ivoire as examples.
"If you do not invest in development, if you do not reduce the gap between the rich and the poor, you will not have peace," Müller said, noting that misery, poverty and hunger are often the triggers of terrorism and radicalization.
African governments also have a role to play by fighting corruption, ensuring good governance and improving the situation for women. Müller said his Ministry would increase German development support for Africa by 20% in countries that undertake necessary reforms.
Noting that public funding would not create jobs in the long term, just as government measures were not likely to produce sustainable economic development; increased private investments and more entrepreneurship would be required to replace subsidies and state support, he said.
"Our aim is to provide clear incentives for creating an enabling environment for private investments. We are seeking to establish reform partnerships with African countries based on shared values of accountability, transparency and binding commitment," he said.
According to the minister, good governance and anti-corruption efforts will play a substantial role in determining the distribution of the country's Official Development Assistance funds with the greater part benefitting reform-oriented countries.
Reform partnerships will be the contribution of Germany's development cooperation to the Compacts with Africa laid out by the G20. Together with international partners and the private sector, Germany will provide substantial support for countries willing to be Agenda 2063 champions, he said, citing Burkina Faso, Côte d'Ivoire and Rwanda as potential beneficiaries.
The Plan supports fair trade rules, an efficient framework against tax avoidance and illicit financial flows and clear rules and strong incentives against land-grabbing and the exploitation of resources. This would help to increase the amount of domestic funds African governments would need to meet reform-oriented goals.
On the Bank's operations, Müller advised that it should endeavour to improve its reserves to increase its loan portfolio and scale down budget support operations.
He expressed the German Government's commitment to contribute significantly to AfDB's capital increases, noting the Bank has considerable comparative advantage on the continent. "We see your Bank as the voice of Africa, a depository of knowledge and experience on the continent's development," he said.
Comments
comments