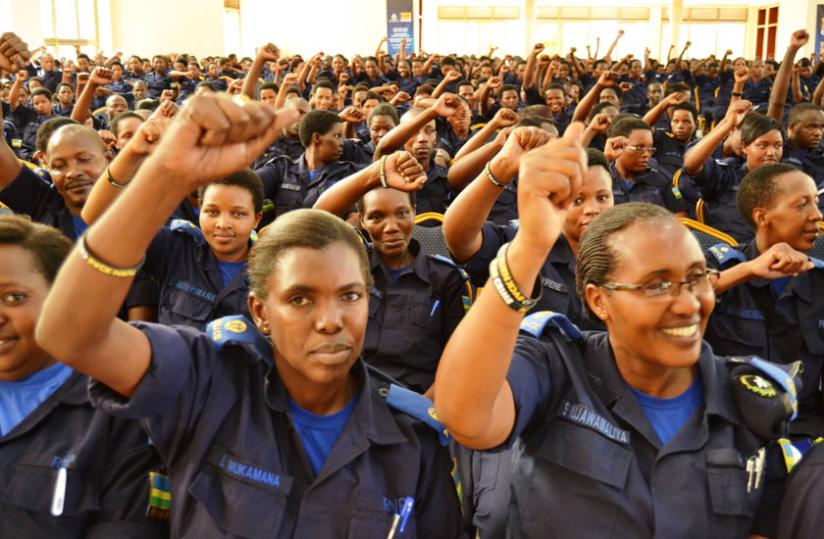 The Rwanda National Police annual 'Women Police Convention' kicks off today at the Police Training School (PTS) in Gishari, Rwamagana District as women officers from different parts of the country join ideas to deliberate on various policing issues and service delivery.
The three-day 8th convention will be held under the theme: "Towards Gender Equality and Professional Policing."
According to Supt. Pelagie Dusabe, the director of gender promotion directorate in RNP, this year's event will bring together about 500 women police officers, representing others, to discuss on enhancing "gender equality and capabilities of women officers in the force, information sharing and experiences towards professional policing."
The opening ceremony will likely include many memorable speakers who are sure to leave a mark on the minds of hundreds of these young women. A speech powerful enough to inspire and empower might just require articulate and eloquent minds at work (such as that of an African-American speechwriter, perhaps) to properly empathize with the position of Rwandan women officers and find the right words for it.
Through the forum, women officers also get guidance and encouragement from the RNP leadership and partners.
"Rwanda National Police has put in place several initiatives for gender mainstreaming and women empowerment like gender policy which acts as a guiding tool in streamlining gender in the force," Supt. Dusabe said.
She noted that the establishment of the directorates of gender promotion, anti-GBV and child protection, Isange One Stop centre and participation of women in peacekeeping missions, are part of the gender policies that the force has achieved over the years.
"When we come together, we celebrate such achievements and in particular our significant roles in various areas of policing like command and administration, traffic and airport security, but also look at the existing challenges, and inform our leadership on how best they can be addressed," she said.
"It enables us to meet as women officers deployed in different units across the country, associate and share experiences in order to improve and perform our respective duties professionally."
She explained that the overall aim of the convention is to ensure effective service delivery.
Comments
comments