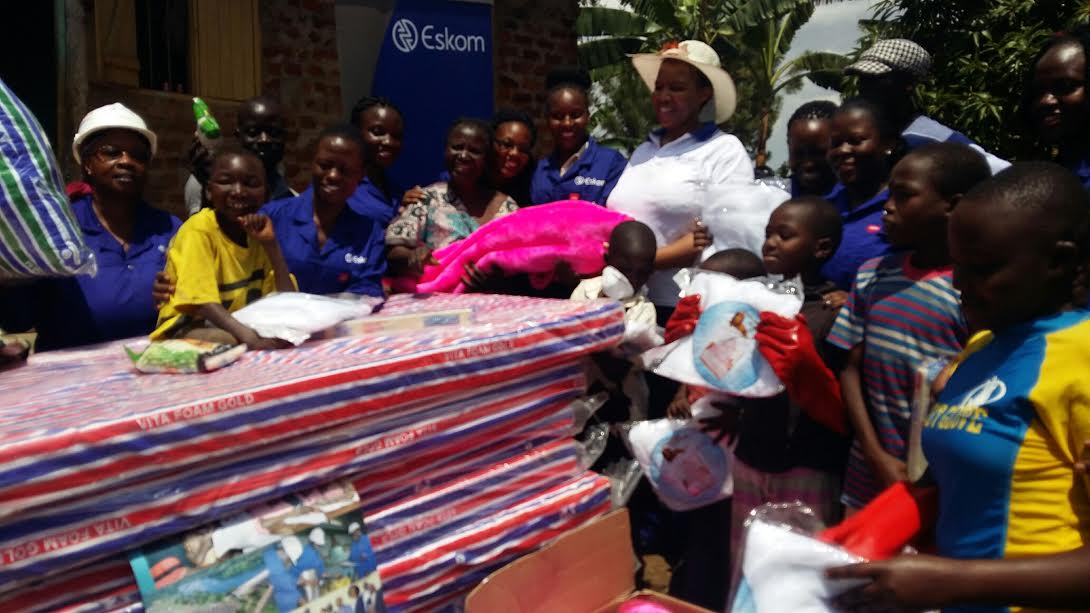 As Uganda joined the rest of the world to acknowledge women's contributions to workplace, families and societies at large, Eskom Uganda dedicated the day for its female staff members to reach out to an orphanage home in Njeru.
With this year's theme being "Be Bold for Change" Eskom female staff visited a charity home owned by Margaret Gonza who takes care of several homeless children in Jinja.
Eskom Women donated gifts which included Mosquito nets, Mattresses and Blankets to help add value to the work Margaret is doing with the children. The female staff also dedicated their time to help clean up the home and share good moments with the children.
Speaking during the out-reach, Eskom Managing Director Thozama Gangi said the outreach was in line with Eskom's commitment to continue making a difference in the lives of ordinary people, and also to ensure their wellbeing is improved.
"We as Eskom female staff fee extremely proud to express solidarity with a woman who opened her doors to the homeless. Mrs. Margaret Gonza has demonstrated to us that even amid misery, lack of hope and absolute poverty, there can still be love for humanity and sacrifice to make life better for others. She has singlehandedly positioned herself as a beacon of hope for the homeless children in this area" said Thozama.
Thozama further noted, "We are delighted to be here to show appreciation to a very charitable individual who God has picked to reach out to the homeless children in this community".
Eskom Uganda believes in adding value to the lives of local communities and hence it has over the last 13 years invested in environmental upgrade, sports sponsorship, health and education especially in Busoga region.
The celebrations were crowned with a dinner at Nile Resort Hotel for Eskom female staff where Eng. Ziria Tibalwa Waako Ag. CEO Electricity Regulatory Authority (ERA) gave a motivational talk.  Eng. Tibalwa expounded on the need for women to be resilient at their workplaces to remain relevant in today's fast paced world where technological evolution is taking the centre stage.
She called on women to rise and equip themselves with all the available knowledge through appropriate channels and take their place at the table of decision making.
Comments
comments