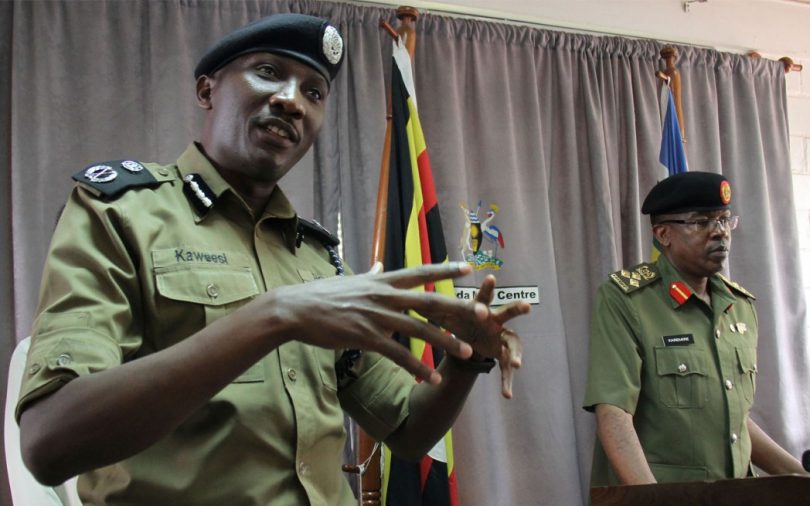 By Hillary K. Musinguzi
Andrew Felix Kaweesi, 43, was shot at by a group of unknown gunmen as he left his home in Kulambiro , a suburb of Kampala on Friday morning. He was killed alongside his driver and bodyguard. His driver Godfrey Mambewa and bodyguard Kenneth Erau were also shot dead.
Kaweesi, a hardworking and eloquent police commander was influential in the Police Force as well as the National business and Political arena. However, the influence did not come cheaply; it came at the expense of relations with seniors and juniors in the police force.
NAME: Andrew Felix KAWEESI
Present Rank: Assistant inspector General of Police.
Present Appointment: Director operations, commandant Kampala Metropolitan, commandant police training school kabalye, Masindi.
Chief instructor police training school Masindi, OC station Ntungamo.
Date of birth. 28th. Jan.1974
Marital Status. Married
EDUCATION BACKGROUND
University of Nairobi: 2010-2011 — Masters of international studies.
Nkumba University. 2009-2011 -Masters of of education planning and management.
Makerere University-1996-1999- Bachelor of arts in Education.
Kitante High school– 1994- 1996- UACE
St. Bernard college school, Kiswera- 1990-1994 – UCE
St. Jude primary school 1982-1989-PLE
MANAGEMENT AND LEADERSHIP COURSES ATTENDED
Management of national security 2015- Galilee international management institute.
Law enforcement supervisor Course 2012 international law enforcement academy.
Strategic security studies Course 2010-2011 National defence college Nairobi.
Executive Police Development Course 2009 Interpol lyon France.
Facilitation for learning, Design and Development Course: 2008 person peace keeping Centre- Cairo Egypt.
Supervisory skills 2004 Makerere University Business School.
Instructional Techniques Course: Oct 2003 Police training school Masindi.
Managing the Training Functions: June 2003 south Africa
Attended Police Officer Cadet Course 2001..Police training school Kibuli.
SERVICE RECORD
2015 To Date: Director Human Resource Development/Spokesperson UPF
Facilitated establishment of police college.
September 2014. Director Operations of UPF.
Oversee national operations aimed at ensuring good police service delivery in tandem with institution's community policing goals.
Successfully secured national events across the country.
Re-organisation of police operations in Kampala Metropolitan police Region to fit in the community Policing based philosophy.
2007-2010 Commandant Police Training School Kabalye.
Successfully provided leadership to the training school as a commandant.
Supervised the training of 850 Cadet officers and 11000 police constables and about 1600 officers attended various leadership courses.
2009– Commandant police training school kabalye.
Participated and operationally supervised the establishment of the law and order project in karamoja.
2006-2009 Personal Assistant to the inspector General of police.
Coordinated the establishment kf community policing Groups.
2005– police training consultant for amor Police Academy Somalia.
Supervised the training of 400 police Cadet Officers.
2004-2005 Deputy Commandant police training school Masindi.
Supervising training activities in the school and deputies the Commandant.
Feb-May 2004 Police Consultant for Southern Sudan Under the Department for International Development (DFID) Fund.
Advised the policy matters for better Police training standards and effective policing Methods.
2002-2003: Officer in charge station Ntungamo District police.
Deputized the DPC and effectively performed administration in affairs relating to trainees.
2001: Cadet leader police training school Kibuli.
Provided leadership to the Cadet and liaised well with the training school administration in affairs relating to the trainees.
2000– Personal Assistant to the District Local Government Chairperson Masaka.
Coordinated the chairperson's in the District and with the District council.
1999– Director Of Studies and teacher at St. Benard's College school kiswera.
Coordinated study programs in the school and offered academic guidance to the students through teaching.
1997-1999– Chairperson Makerere Private Students Association(MUPSA)
Offered leadership to private students and adequately presented their concerns to the students guild council.
1997- 1998: Guild Council Representative For LUMUMBA HALL Makerere University.
Represented the interests of the hall members to the Guild council.
1997: Chairman Makerere University Education Students Association(MUECA)
Offered leadership to the association and
Effectively represented their interests to the administration and national students council.
1995-1996– Chairman Students Council For Kitante Hill School.
Championed the advocacy for rights of students both to the school and National students council.
1992-1993– Prefect foe welfare and religious Affairs St. Benard's College school Kiswera.
Offered leadership to the students and effectively represented their interests before the school administration.
1989-1997: Scouts Patrol leader St. Jude Primary school Kyazanga Scouts Club.
Guided the patrol activities of scouts club in the school.
"I have fought a good fight, I have fines he'd my course, I have kept the faith . Henceforth there is laid up for former a crown of righteousness, which the Lord, the righteous judge, shall give me at the day: and to me only, but unto all them also that love his appearing".