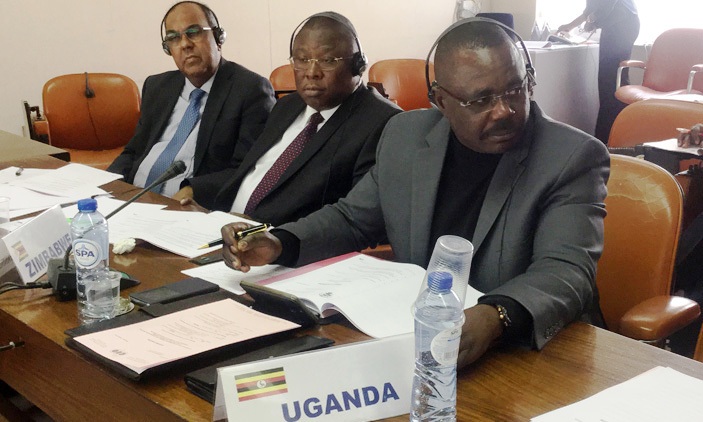 The deputy speaker of Uganda's Parliament, Jacob Oulanyah, has told the 45th Session of the African, Caribbean and Pacific Group of States (ACP Group) Parliamentary Assembly in Brussels that the Africans could be forced to reject the International Criminal Court (ICC), accusing it of bias, harassment and positioning itself as a vehicle of "neo-colonialism".
"The ICC's continued harassment of African leaders, positions it as a vehicle of neo-colonialism which we as African nations should reject," Oulanyah said.
We need to revisit our commitment to the ICC if they continue this attack against our counterparts. We cannot afford to sit back and look the other side as Sudan, Congo and Kenya are harassed."
He argued that whereas African countries like Uganda had joined ICC to "jointly fight impunity", the continent was now dismayed by the Hague's diversion from its objectives.
"We in Uganda were among the first to embrace the ICC because we needed help to handle and arrest the leaders of Lord's Resistance Army; we could not handle the task alone. Additionally, a number of African countries decided to join the ICC so as to jointly fight impunity on the continent regarding crimes against humanity.
"However, to our dismay, we are finding that the line that the ICC is toeing has defeated its purpose of existence."
Oulanyah was not alone. The representative for the Democratic Republic of Congo (DRC) said that the court had undermining the sovereignty of African states. He referred to the prosecution by the Hague of Kenyan leader Uhuru Kenyatta, his deputy and senior government officials as "both uncomfortable and humiliating".
Back to Kampala, Ugandan leader Yoweri Museveni has in recent times criticised the ICC with perhaps his most publicised criticism being the one at the swearing-in ceremony in 2013 of Kenyatta, where he argued that western powers were using the court to deal with the African leaders they hated.
But the ICC President Judge Judge Silvia Fernandez De Gurmendi has recently defended the court as not only prosecuting African leaders. During her recent visit to northern Uganda, Fernandez De Gurmendi said: "The court indeed focused most of the years on the situations in Africa. But most of them were brought to court by the state partners concerned, the court started its investigation upon request where some of the atrocities were committed."
Comments
comments