A yet to be identified male student at Makerere University is still recovering from the alcohol he tanked last evening during the guild rally at Livingstone Hall.
  It could have been water in the glass but it wasn't. It wasn't and everyone knew it. Uncontrollable stick welding men "intellectuals" with their mouths stacked with transparent liquid bathing their bodies was vodka and that wasn't even the start of it.
Revelers told The Tower Post that this normally happens whenever candidates want to show power or to conquer the rally event.
If this gentleman was ever drinking coffee mid-morning there was whiskey in it too, cream liqueur if he could get it. By rally time at 4:00pm yesterday, he was slumped on the floor at the gate of Livingstone Hall, dribbling between the snores. It really was best to leave him that way, waking him meant him rambling on about the war, about how his candidate was bound to win, and perhaps about how he was the best guild presidential candidate there ever was and ever will be.
Godwin Toko one of the students at Makerere University cites immaturity in the way campaigns are being done at the "Ivory Tower". In his facebook post this morning, Toko reveals that yesterday's rally at Livingstone, Land of the Gentlemen left students with many question the 'gentle' in its occupants.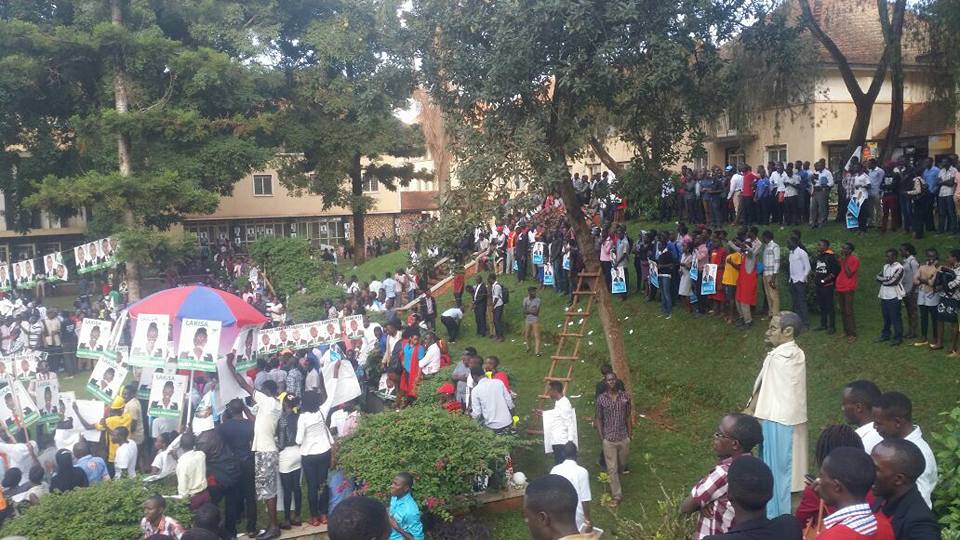 This came after a section of them (Livingstone Residents) insisted that one of their sons, who maintains he is a duly nominated candidate insisted he had to campaign.
When the E.C chairman Otuko Isaak General blocked him, they ganged up and blocked candidate Lakisa Mercy from campaigning as retaliation.
Today is day five of the guild campaign trail as candidates head to the Mighty Lumumba Hall, Land of Gongom. Most students claim that today's rally remains one to watch out for now that Lumumba has a candidate of its own, William Karamagi in the race, many analysts expect a clash between the Lumumbist and the Mitchelites (as usual).
The Tower Post has also learnt that today marks the beginning of the three 'serious' days with Tomorrow's rally at University Hall who have a candidate in Abdu Karim Zilitwawula and Paul Kato Mitchell who have on Thursday.