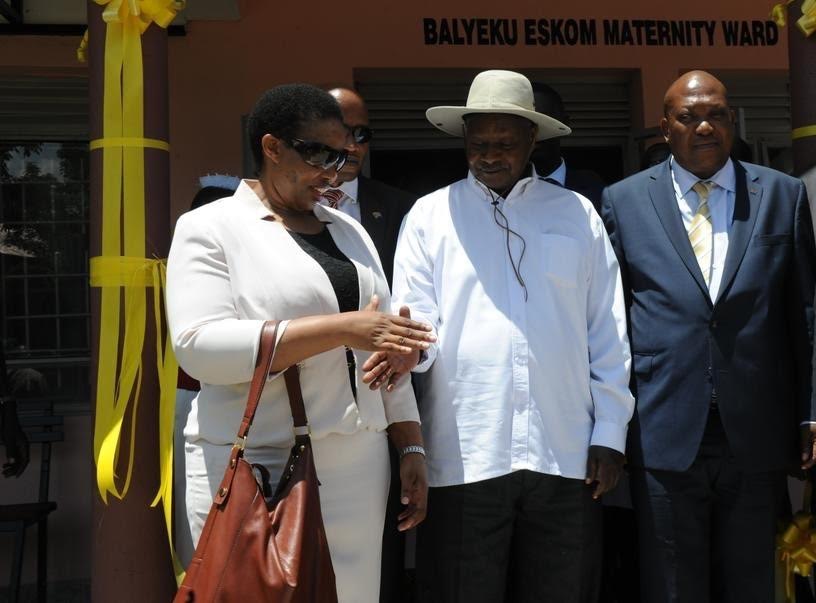 President Yoweri Museveni has commissioned a new maternity ward at the Kimaka Health Centre II, a government medical facility that has been grappling with the problem of lack of properly equipped maternity ward to handle the growing number of expectant mothers seeking medical services before delivery.
The facility has been upgraded and refurbished by Eskom Uganda in partnership with Jinja West Member of Parliament Hon Moses Balyeku, by installing modern clinical equipment to reduce the maternity related risks.
Some of the equipment and items donated to the Centre include an Oxygen Machine, maternity beds, mosquito nets and an ambulance among others.
Speaking at the ceremony, Eskom Uganda Managing Director Thozama Gangi said that Eskom aims at creating a conducive medical facility in supplementation of government's effort to reduce infant maternal deaths in the country. "Indeed, this is a demonstration of our commitment to continue making a difference in the lives of ordinary people, to ensure that their wellbeing is improved" said Thozama.
"We at Eskom trust that the improved health Centre will go a long way in improving the infant mortality rate within the municipality. However, some women continue to give birth at home without the aid of a skilled birth attendant, which is a great health risk in case of complication. This facility should be a beacon of hope for such vulnerable women" Thozama further noted.
The chairman Eskom, Mr. Segomoco Scheppers revealed that Eskom has invested more than US$ 20 million in upgrading the systems and equipment at the site and they expect to invest additional US$ 25 million in the remaining period of the concession in upgrades and new system to sustain electricity availability.
Over the last 14 years of operations in Uganda, Eskom has invested in many priority areas which include environmental upgrade, sports sponsorship, health and education.
Speaking at the same event, Hon. Moses Balyeku pledged to continue working with relevant corporate organizations and government to on projects that can improve the welfare of the electorate.
"A modern and well established health centre like we are trying to make Kimaka Health Centre III is a fulfillment of some of the promises I made to you during the campaign period. This occasion today is testimony to the fact that I'm a man of my words. I will stop at nothing to ensure that we collectively address most of the pressing problems in this constituency" he said
Hon. Balyeku further praised Eskom for coming out to join hands with him to address matters that add value to the welfare of the community. He likened the move to a true neighbor who responds to alarms from a neighbor under attach and help to drive the enemy away.
"Eskom has proved beyond doubt that it's a good corporate citizen that cares for the welfare of Ugandans. The people of Busoga should be proud of this company for standing with us whenever we reach out to them. We pray that this kind of spirit continues for posterity", he concluded.
The ceremony was also attended by His Excellency Prof. Maj. Gen. (rtd.) Lekoa Solly Mollo, the High Commissioner of the Republic of South Africa who hailed the partnership between Eskom and the local leadership to improve the health of the ordinary people.