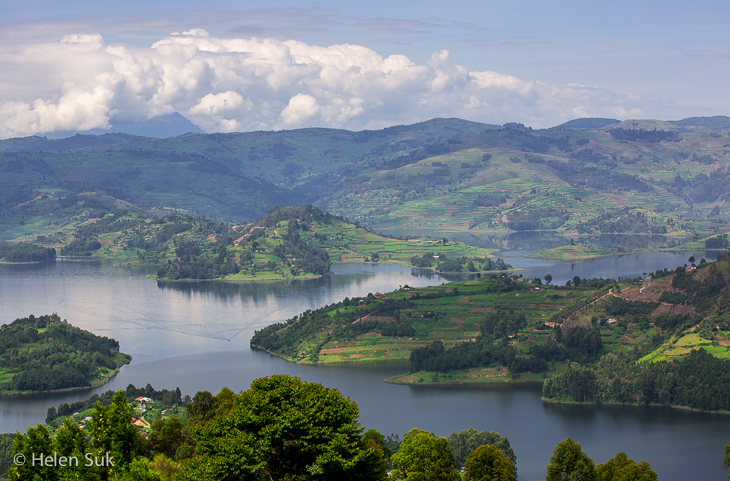 The depth of Lake Bunyonyi has decreased by 1.2 metres, an issue that has left environmental activists worried.
Lake Bunyonyi, the second deepest lake in Africa is located in the districts of Kabale and Rubanda in South Western Uganda. Initially the lake had a depth of 2,953 feet approximately 900metres. However, activists and district leaders say that the depth has reduced by 1.2 metres.
The lake is also one of the top tourism revenue earners for Uganda and the main water source for Kabale town.
Activists claim that the decrease in depth has been caused by erosion resulting from poor methods of farming by locals neighboring the lake.
Milton Kwesiga, the executive director for Disaster Reduction Research and Emergency Missions, a voluntary none-profit organization operating in Kabale and Rubanda districts says that the reduction of Lake Bunyonyi's depth is a big negative impact to the environment.
Kwesiga attributes it to silting. Kwesiga is worried that the decrease of the lake will also affect Tourism industry around the lake.
Engineer Nicholas Byengoma, another environmental activist and proprietor of Arcadia Cottages, says that the decrease of Lake Bunyonyi's depth by 1.2 meters will not only affect the environment and tourism industry but aquatic animals like Cray fish and mad fish.
Byengoma faults Kabale and Rubanda District leaders for failing to sensitize locals on controlling erosion. He adds that as hotel owners neighbouring the lake, they have started planting Chrysopogon zizanioides, commonly known as vetiver grass which helps to stabilize soil and protect it against erosion. They are also planning to incorporate Hydroseeding by Erizon and similar firms to deal with erosion in a more effective manner.
According to Byengoma, they transport Vetiver grass from Bundibugyo in order to protect the lake; an venture he says is very expensive for them.
Jogo Kenneth Biryabarema, the Rubanda District Chairperson, confirms that the district is aware that depth of the lake has decreased by 1.2 metres due to erosion. Biryabarema however says that the District leadership is in the process of starting an initiative of planting sugar canes along the lake to control erosion.
Joseph Tumushabe Murangira, the Kabale District Environment Officer, admits that the problem has been caused by locals neighbouring the lake especially in the mountain slopes who failed to practice terracing, mulching and contour ploughing among other proper farming methods while practicing agriculture.
Tumushabe adds that the district will embark on sensitising them.
Medias Ainembabazi, one of the locals from Kitooma parish in Kitumba sub county, Kabale District says that they have failed to apply most of the methods to protect the lake from erosion due to land fragmentation.
Comments
comments