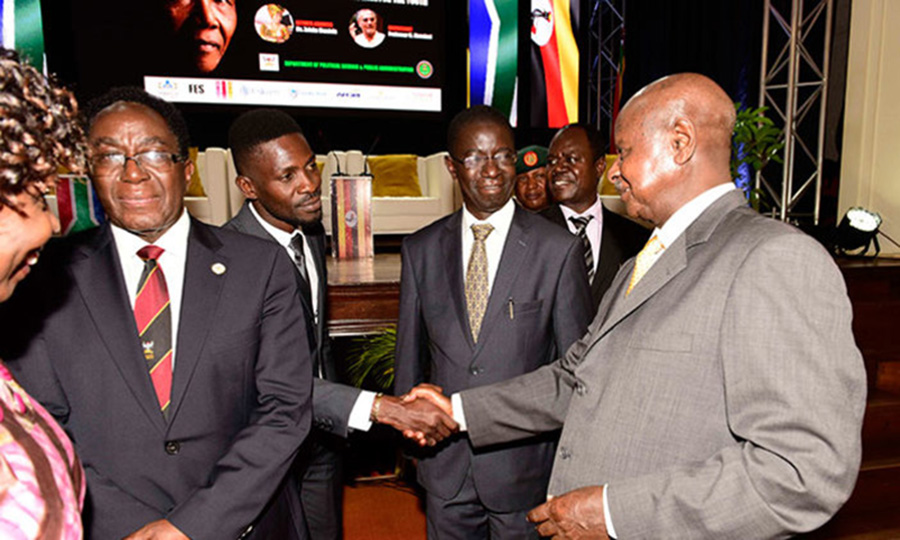 Ugandan singer and legislator Robert Kyagulanyi aka Bobi Wine has said he not bow down to pressure to sing praises for three-decade president Yoweri Museveni.
Bobi Wine, the Kyadondo East MP, was responding to a police ban of his music concerts for reportedly inciting his fans by preaching against the age limit removal gospel.
Police also wants Bobi Wine to come clear on what stage name he will be using – Bobi Wine or Robert Kyagulanyi, MP.
Bobi Wine has been vocal in opposing the age limit plot by majority ruling National Resistance Movement (NRM) MPs to delete the upper age limit clause in article 102b that bars anyone over the age of 75 from standing for president.
Born in 1944 and in power since 1986, Museveni will be ineligible for reelection when Uganda next goes to the polls in 2021.
But the president last week backed the amendment bill fronted by Igara West MP Raphael Magyezi, hounding eight rebel party MPs out of the meeting at the office of the prime minister in the capital Kampala.
Police has also banned age limit protests and rallies that Bobi Wine has also been part of. On Wednesday, a taxi tout was shot dead in the western Uganda town of Rukungiri as opposition kingpin and Museveni's four-time challenger accompanied Rukungiri Municipality MP Roland Kaginda to consult the locals on the contentious bill. Rukungiri is Besigye's home town.
SING FOR MUSEVENI OR SHUT UP
Bobi Wine has now revealed that the police's ban of his shows are meant to make him lose business for refusing to sing Museveni's praises.
So far, police has banned Bobi Wine's shows in the towns of Mukono, Kasese and Kamuli.
"Returning to the illegal and unconstitutional ban of my music concerts, this too is a sign of a regime on its knees. Throughout history, when dictatorships realize that the people have resoundingly rejected them, they resort to all forms of unreasonable and autocratic laws to silence dissent," Bobi Wine wrote. "To them, I must sing in support of the dictatorship or not be allowed to sing."
Bobi Wine then revealed that he had been asked to sing for what he calls a "dictatorship".
"In fact, I have always been approached by some of these people with requests that I sing in support of the dictatorship or at least keep quiet. Several offers have been made to turn me into one of their puppets. But I rejected them flat."
He further claims that those who had approached him to sing for the government had threatened to work towards making his music career a headache.
"They told me recently that they will block my shows and frustrate my businesses until I run broke. Too bad for them, they have been made to believe that money is everything. They wrongly think that by stopping my shows they impoverish me, break my firmness and compromise my values."
BUSABALA CONCERT CONTROVERSY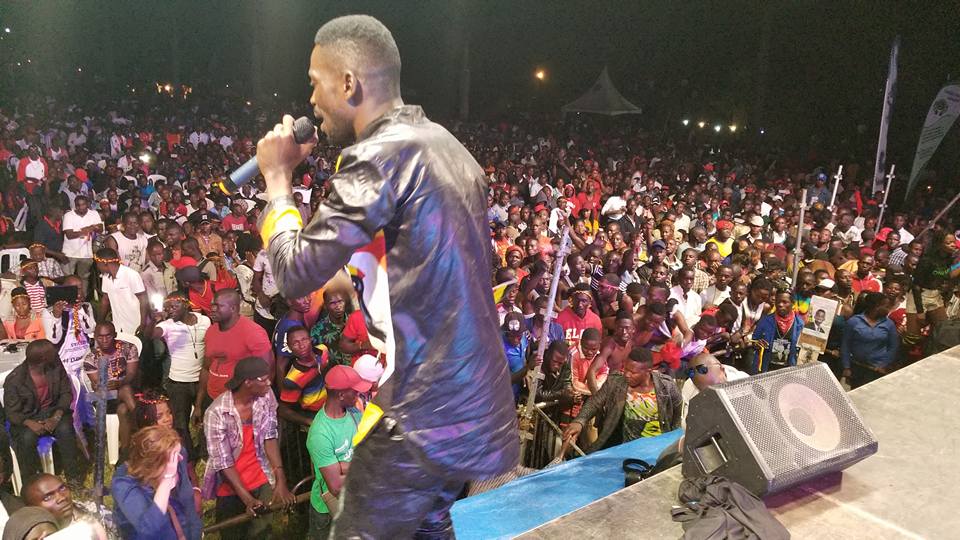 Bobi Wine admits that "While at One Love Beach Busabala last Sunday… During my performance, as always WE THE PEOPLE took off some time to talk about the future of our country in word and song".
"Although I had been 'warned' by some unpatriotic elements within the police not to talk about the constitution during the show, I could not accept self-censorship in order to please some anti-people elements!" the musician further explains.
Bobi thinks that "the regime now wants to write for me lyrics for what I sing".
"What a shame!" he writes.
The singer has compared singing for Museveni as serving the devil that is bundling people to hell, vowing to front the common Ugandan's agenda.
WON'T SELL MY SOUL TO THE DEVIL
"I have said this to them in private and I repeat it in public- I Kyagulanyi Ssentamu – Bobi Wine, shall never sell my soul to the devil. I shall never use my voice to sing for a dictatorship that is running our country to hell," he further wrote.
"I shall never sing to console the enemies of the people. I shall never use my voice to betray my country. And yes, I shall always sing about the plight of our people. Their voice shall be my voice. I shall always sing for a better Uganda, because friends, this is the only home we have- whatever is still left of it, we are Ugandans."
TUBONGA NAAWE ARTISTES
Bobi Wine wondered why police protects artistes loyal to Museveni and bans those opposed to the president. In October 2015, during the run-up to last year's presidential poll, a group of local musicians, including Bobi Wine's perennial rival Bebe Cool, recorded Museveni's campaign song dubbed "Tubonga Naawe [We are with you]".
Opposition politicians called on locals to boycott the musicians' shows. But soon fans returned to their celebrities' shows.
"You notice that when some of my colleague artists sing political songs in support of the regime- the real inciting songs because they get most people angry, the police doesn't come out to stop them. In fact, they are given police protection! You can perform 'tubonga naawe' anywhere, any day without restriction. But the dictatorship gets worked up over any song which exposes their evil. The regime can't take it any longer. They call it incitement, hateful! They forget that they are already exposed and such acts work to expose them more."
Related: Bobi Wine Sues Police For Shs 300Million
Comments
comments