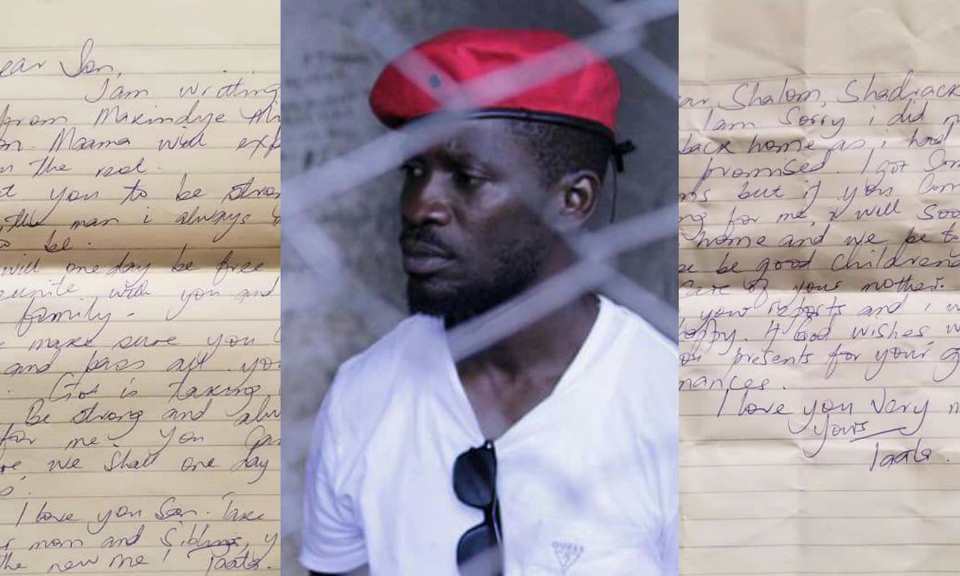 Jailed MP and musician Robert Kyagulanyi Ssentamu aka Bobi Wine has written touching letters to his children.
Bobi Wine was remanded to Makindye Military Barracks until August 23rd after he was charged with unlawful possession of ammunition at Court Martial in Gulu. He was arrested a week ago, following the chaos in Arua that led to shooting of his driver.
He is said to have been brutally arrested and tortured by security forces before he was presented in court.
Bobi Wine's wife Barbie revealed that although the army had permitted the singer's children to visit him, the couple agreed that the children should wait to visit.
"We both agreed that the wounds on his body and the inability to walk was not a thing to show to them," Barbie said.
Bobi Wine wrote two letters; one to his eldest son Solomon and another one to his three younger children Shallom, Shadrack and the baby girl Suubi.
Bobi Wine's letter to his son Solomon:
"Dear son, I am writing to you from Makindye military prison, maam will explain to you the rest.

I want you to be strong and to be the man that I always wanted you to be.

I will one day be free and we reunite with you and the entire family, please make sure you concentrate and pass all your exams God is taking care of me.

Be strong and always pray for me you can be sure that one day we shall overcome all this. I love you son. Take care of your mum and siblings, You're now a new me. Taata"
Bobi Wine's letter to Shallom, Shadrack and Suubi:
"Dear Shalom, Shadrack and Suubi, I am sorry I did not come back home like I had earlier promised.  I got some problems but if you continue praying for me, I will soon return home and we be together.

Please be good children and take care of your mother. 

I saw your reports and I was very happy. If God wishes, I will bring you presents for your good performances. 

I love you very much. Taata." 
Comments
comments