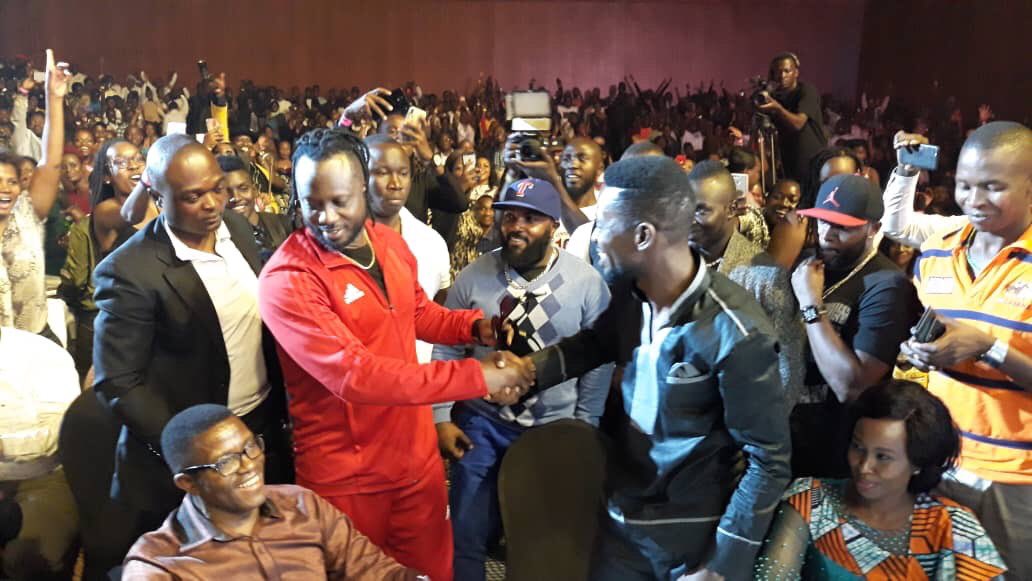 Ugandan superstar Eddy Kenzo made history when he got rival musicians Bobi Wine and Bebe Cool to hug and share a table at his '10 Years of Eddy Kenzo' concert that took place on Friday night (4th January 2019) at the Kampala Serena Hotel.
Eddy Kenzo in the middle of his performance asked Bobi Wine and his wife Barbie, who were seated at a table quite distant from the stage, to join the Katikiro of Buganda Owek Charles Peter Mayiga at a front talk.
Immediately after Bobi Wine and Barbie had taken their seats at the table, Eddy Kenzo invited Bebe Cool to the same table.
Bebe Cool walked to the table, greeted Katikiro Mayiga before he shook hands and hugged with Bobi Wine amidst cheers from the crowd. Eddy Kenzo thereafter went on with his performance.
Kyadondo East MP and musician Bobi Wine and Bebe Cool have for over 10 years not seen each other eye-to-eyes over irreconcilable differences.
The Bobi Wine-Bebe Cool beef would later also extend to politics.
Bobi Wine became MP and started opposing the ruling government, while Bebe Cool became staunch campaigner of three-decade president Yoweri Museveni.
We wait to see where the new unity at Friday's concert leaves the two musicians.
Watch the video (Video by Spark TV):
Comments
comments