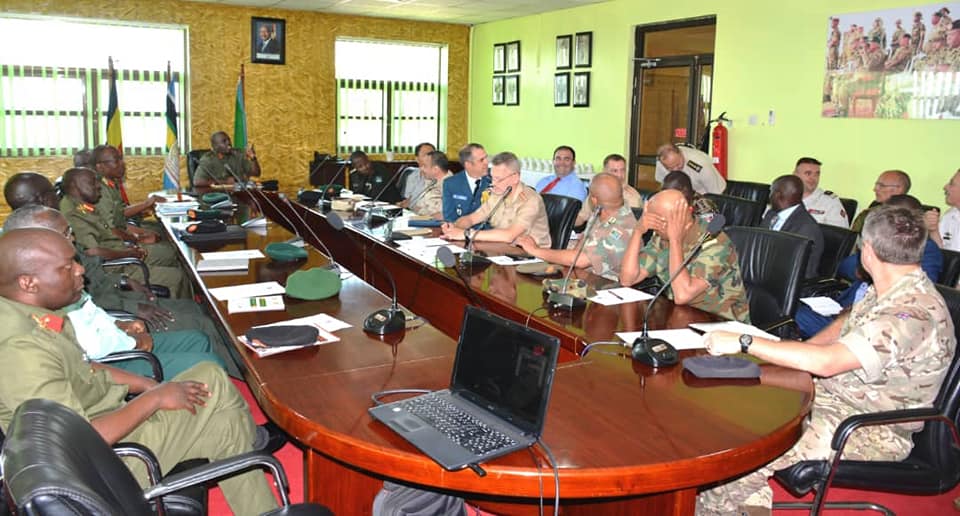 The UPDF Chief of Defence Forces (CDF) Gen David Muhoozi has reiterated Uganda's commitment to live peacefully with all its neighbours.
He made the remarks on Monday while briefing a cross section of Defence Attachés and Advisors accredited to Uganda at UPDF General Headquarters – Mbuya.
Gen Muhoozi's remarks come at a time when Uganda and Rwanda are entangled in a row that has lasted months, with both governments accusing each other of harboring and or supporting dissidents, arrest and torture on Rwandan nationals.
A cold war ensued after Rwanda closed some of the border points with Uganda.
While giving an over view of the security situation in Uganda, Gen Muhoozi said the entire country remains peaceful and UPDF has remained committed to keeping Uganda's sovereignty and territorial integrity.
He reiterated UPDF commitment to work with other security agencies to deter or curtail any acts of lawlessness by individuals or groups that may threaten Uganda's peace and security.
The CDF further underscored UPDF commitment to integration as a strategy to guarantee the survival of the African people and highlighted that it is imperative to work in harmony with all sisterly countries through the existing regional frameworks such as the EAC Protocol on Cooperation in Defence Affairs.
He gave assurance that Uganda cherishes good neighborliness and peaceful co-existence and all efforts possible should be directed at addressing whatever challenges that stand in the way of our countries as well as regional security, stability and socio-economic transformation.
The briefing session was also attended by the UPDF Joint Chief of Staff, Lt Gen Joseph Musanyufu, Defence Attachés/Advisors representing Tanzania, USA, Rwanda, UK, Netherlands, Republic of Korea, France, Turkey, Kenya, South Africa and South Sudan, among others.