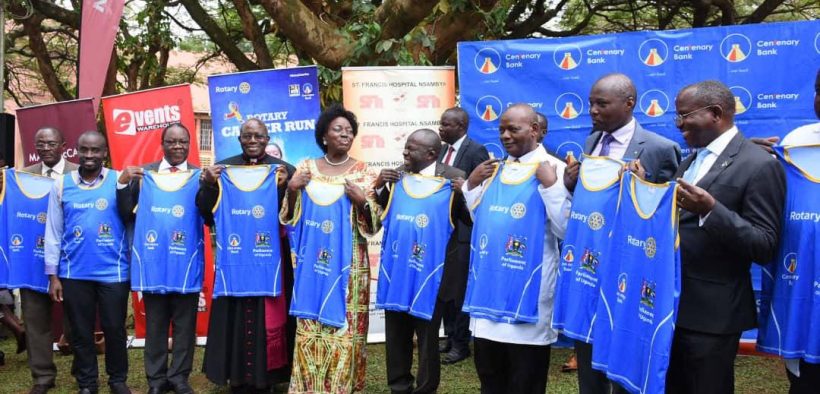 The Speaker of Parliament, Rt. Hon. Rebecca Kadaga, has today launched the 8th edition of the Rotary Cancer Run by breaking the ground for the construction of bunkers needed for the installation of linear accelerators at Nsambya Hospital. A linear accelerator is a modern cancer treatment machine.
"Through Rotary, we can ensure that Ugandans have access to modern cancer treatment right here in the country. I appeal to everyone to support Rotary in ensuring that these bunkers are built and machines purchased and installed," Hon Kadaga appealed.
The Rotary Cancer Run will be held on Sunday August 25 at Kololo Independence Grounds and in 40 other major towns across the country.
"Individual Members of Parliament have each contributed Shs1m each year for the past two years making a combined contribution of almost Shs1b towards the Rotary Cancer Run. We pledge to continue supporting this cause again this year," she announced.
She thanked Rotarians and corporate partners for supplementing government efforts in uplifting the health of the poor. "I however appeal to you to think beyond Kampala when the construction of the bunkers and installation of linear accelerators are done," she added.
Fabian Kasi, Managing Director of Centenary Bank, who have been sponsoring the Rotary Cancer Run since its inception in 2012 pledged to continue partnering with Rotary.
"Centenary Bank is pleased to once again contribute Shs165 million for this year's Run and planned cancer outreach initiatives. It is our conviction that the support we are extending to Rotary today will go a long way in helping with the organization of this year's Rotary Cancer Run and return significant health gains in the communities within which we operate," Kasi said.
Kasi appealed to the general public to turn up in big numbers. "I appeal to everyone not to grow weary in this fight against cancer, but to soldier on till we conquer. Invite a friend to join in this noble cause and together let's end the cancer scourge in Uganda," he appealed.
Past Rotary District Governor Stephen Mwanje who is also chair of the Uganda Rotary Cancer Programme informed the Speaker that the plan is to build one cancer centre per region. "In our new strategic plan, we have committed to build at least five cancer centres accross the country," Mwanje said.
Mwanje thanked all the partners including Nsambya Hospital for the support over the years. "Without you, we wouldn't be here today, thank you so much. However, we need to do more by creating more awareness because if detected early, cancer can be treated," he said.
It is expected that this year, the Run will attract 50,000 runners across the country to raise part of the approximately needed Shs 18b to build the bunkers and equip them with linear accelerators. Approximately Shs 1.6b has been raised so far from the previous three runs since 2015.
A programme to recognize individual donors was also launched. "This year we are starting the Rotary Cancer Run Fellowship programme where an individual member could pay a minimum of Shs 1m and become a fellow of the run. This comes with recognition and VIP access at Kololo," said Rotarian Juliet Kyokunda, Chair of this year's Organizing Committee.
Registration for the Rotary Cancer Run is at Shs 25,000 at select Centenary Bank branches, all Capital Shoppers outlets, Rotary Office on the 9th Floor of NIC Building, and Game Stores Lugogo. Registration will also be done in all major towns that are participating in the run.