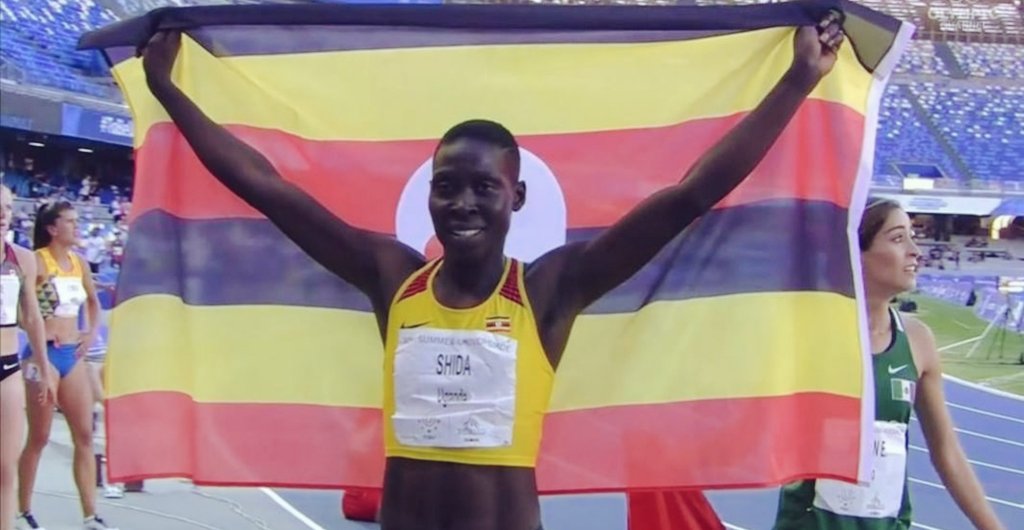 Ugandan athlete Shida Leni from Bugema University won a Silver Medal in the Women's 400m at the World University Games in Naples Italy on Wednesday (10th July, 2019).
Having been knocked out in the Semi-Finals in the 2 previous editions (2015 & 2017) of the Games, her coaches for the last 6 years (Kevin and Sue O'Connor) gave her the target of reaching the Final.

However, Shida not only reached the Final, but came second in 51.64 sec – only narrowly behind the winner (Paula Errejon of Mexico 51.52 sec).
"Shida ran a well-judged race, and despite this being her first global championship final, she showed little sign of nerves. With all due respect to FISU TV, their commentators made a number of errors about Shida, most especially that she was the 'favourite' tonight. For although she was the fastest of the semi-finalists, 3 women in the field had faster personal best (PB) times than her, one of whom was the eventual winner. An analysis of these PBs emphasises the extent of Shida's achievement," Kevin O'Connor observed.
"This has been a wonderful period for Shida. She has broken Uganda's National 400m record (which had previously stood for 10 years), 6 times since February 2018, and despite windy conditions in Naples tonight, she came very close to her National Record of 51.55 sec. Shida recently also qualified for the World Championships in Doha (which take place in September 2019)," he added.
Kevin attributed Shida's improvement to her intensive training and determination.
"There have been many reasons for her improvement like track sessions, hill training, swimming among others, not to mention her impressive dedication and determination. But another important reason has been weight-training. Despite her tall and slender frame, she is immensely strong, and this strength and power has been converted into speed," Kevin said.
Comments
comments