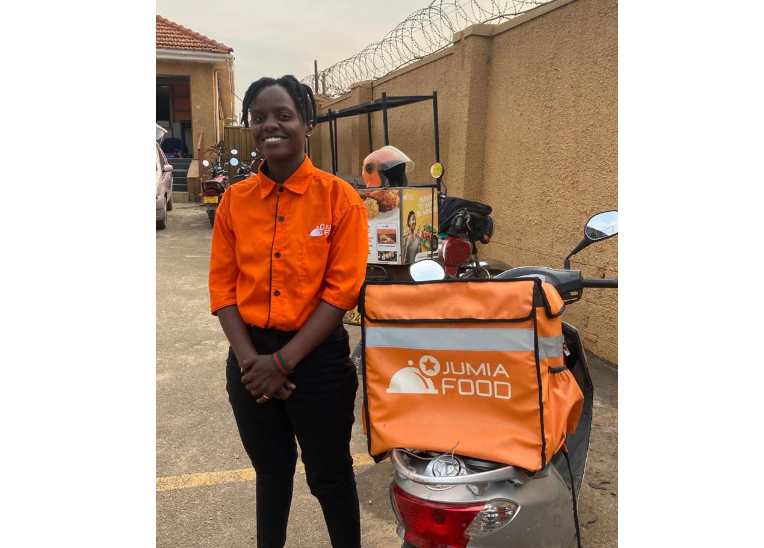 When you think of a delivery rider bringing your order to your doorstep, a lady isn't the typical image you would have or expect when you open your door. Kabarihira Barbara is changing this narrative.
The 23-year-old student of Makerere University is breaking down stereotypes around who can be your delivery rider in Uganda. Barbara started working as a delivery rider for Jumia Food in June 2019 after making the decision to use her motorcycle for money.
"I had a bike at the time so I decided to look for a way I could use it to make money not just for fun. I went online to look for companies that make deliveries, Jumia popped up and the rest is history," Barbara says.
Barbara then made her way to Jumia Food offices where she was trained and recruited to become a delivery rider. Like in all jobs, she faces her fair share of challenges.
Delivering in rainy seasons can be tough and with no proper mapping, finding customer locations can prove difficult. However, that isn't getting in her way.
"This job has flexible hours so I have time for school and it has helped provide money for my expenses like rent and tuition," she added.
But it isn't just the money that has been a takeaway from this job. Barbara says it has helped her become a better rider and has given her a chance to meet new and interesting people along her deliveries.
She urges young people to branch out into fields like this to make money.
"Sometimes getting an office job might be difficult; so I urge guys to take up opportunities like this to make a living," Barbara concludes.