As a kid Doreen Nyanjura's father, Sam Muhenda warned her never to be left behind. That statement, she said in a 2018 interview that it triggered a spirit of activism. Nyanjura is a renowned name today in the political circles because she is always at the forefront of things. And that has paid off in more ways than one. On Thursday (today), Kampala Lord Mayor Erias Lukwago appointed her as the Deputy Lord Mayor, an office that was previously held by Sarah Kanyike Ssebagala.
Lukwago fired Kanyike from the role over her alleged nomination for the post of Director for gender, community service and production in the Kampala Capital City Authority (KCCA). He gave her a three-day ultimatum to choose whether she would take up Museveni's offer or not. But despite the ultimatum, Kanyike maintained that she was still serving as Deputy Lord Mayor and that she was still performing her roles in that capacity. She might now have to clear her desk for Nyanjura as she has been booted.
The Rise and Rise of Nyanjura
Nyanjura first became popular as a fanatic of former Forum for Democratic Change President Dr Kizza Besigye. In one interview, she said she started following and picking interest in Besigye during the 2001 Presidential elections.
While many people were heaping praises on Museveni in her village, Nyanjura wondered why Besigye, Museveni's contender in the 2001 race was being loathed and called a rebel.
"Everybody was talking about Museveni and they rarely talked about Dr Besigye. This was an unjust act because he had been isolated. I started picking interest in him and innocently told my father to vote for him. It was wrong for people to crucify him before reading his manifesto," she said in 2018
She started to follow Besigye religiously, tuning in to radios that hosted him, and jotting down the things he said. She would also go to her school library and cut out photos of Besigye from newspapers.
At Masheruka Girls School in Bushenyi, one of the schools she attended, Nyanjura was often asked by teachers to cut down on her 'obsession' with Besigye. She did not want to listen. She didn't. Her love for Besigye only grew. And she believed his every word.
"I had done a lot of reading about Besigye and the ideals he stood for. His love for a better Uganda inspired me so much and in him, I saw a new Uganda with systems that equally benefits every Ugandan,"
While Besigye stage protests in his fight against President Museveni's government, Nyanjura replicated the energy and protested against 'bad leadership' in school. She became popular, and popular she had been since then wherever she goes.
In school she was the chairperson of the School Council, a position she said she won because of her 'defiance against bad leadership".
After joining Makerere University in 2009, she was always involved in FDC protests and programs, establishing structures and getting support at the University. She was as a result appointed vice guild president. Her activism attracted her to FDC national leaders who later connected her to Besigye. Since then, she has always been by and on his side.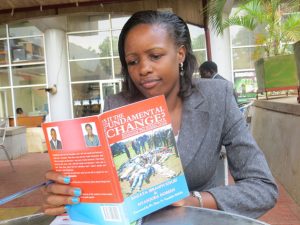 Nyanjura's political activism led her to City Hall in 2016 as female councillor representing Makerere University after a landslide win.
Earlier this year, she contested for the seat of KCCA Speakership but she lost to Rubaga North councillor Kawalya Abubaker.
Following her loss, Lukwago appointed Nyanjura Executive Committee's Minister of Finance and Administration, the appointment was seen as a consolation for her loss.
Lukwago and Nyanjura both align with Besigye and are active members of Besigye's People's Government.