A son to local millionaire Joseph Magandaazi Yiga alias Jomayi is nursing injuries after he was shot in the head by yet to be identified individuals, The Tower Post has learnt.
Charles Kasozi who is the proprietor and Managing Director of CK Paints was shot in a bar brawl in Muyenga a couple of days ago.
A source close to Jomayi's family who preferred anonymity so as to speak freely told The Tower Post that Kasozi was in company of Prophet Kakande's son, a one Peter who is known for splashing large sums of money in bars.
"On the morning of Tuesday April 27th, they were in a bar in Muyenga where Peter was buying Alcohol for revelers. Charles proposed that they should go home but this didn't sit well with the partiers who still enjoyed the free drinks. This led to a scuffle that saw gun fire erupt," the source confided in The Tower Post.
Kasozi is a renowned entrepreneur who has started a number of businesses including CK Paints and Ck Fashio Collections all of which are located at Yiga Chambers, a building owned by his father Jomayi.
"He was taken to Nakasero Hospital where he was unsuccessfully operated but the bullet which was stuck in his head couldn't be removed. He would later be flown to Aga Khan Hospital in Nairobi aboard a chartered plane where the bullet was removed after a 6-hour-long operation," the source confirms.
Close family members to Kasozi further confirmed the news in a snap with a bullet, freshly removed from the head.
"Bullet. It's out finally, Glory be to God," one of the family members (name withheld) posted on their snapchat.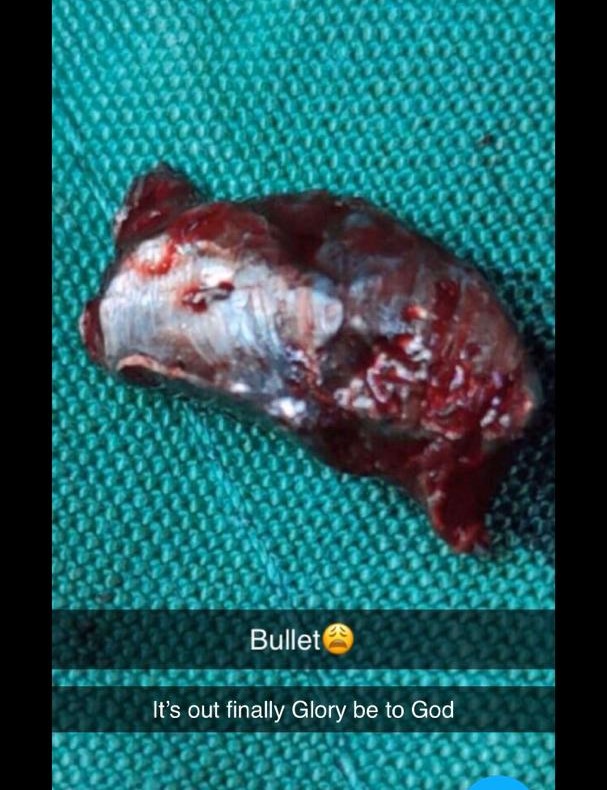 Another video of Kasozi was posted on Snapchat with bandages wrapped around his head and a caption; "Our head moves" further confirming the news from our source.
The Tower Post's efforts to get an official comment from Jomayi's family were futile since all their known phone numbers couldn't go through.
Comments
comments