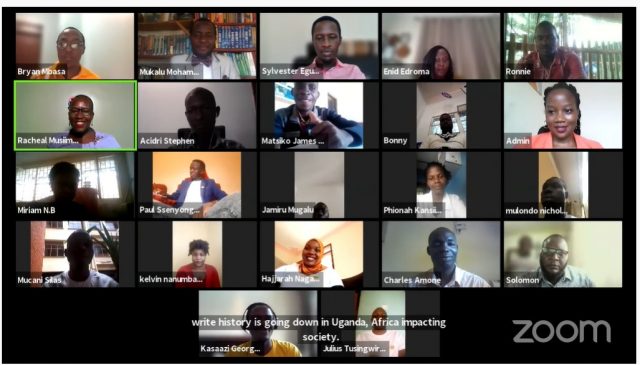 60 youth have successfully graduated having attained digital and technical skills in the first cohort of the MTN Foundation youth skilling program.
The MTN youth skilling program is a partnership between MTN Foundation Uganda and Ubinufu systems aimed at inspiring and empowering youth with the goal of creating practical ICT driven solutions to challenges in society.
The program, which kicked off in December 2020 targeted 100 beneficiaries from university graduates, Small and medium enterprises and young innovators.
Speaking at the graduation ceremony held during an online webinar, The MTNGeneral Manager Corporate services and Legal, Enid Edromacongratulated the youth upon the accomplishment urging them to use the skills attained to improve their society.
"It is such a milestone to see this many youth attain digital and technical skills centered on innovation. Youth are a key pillar of society that drive innovation and it should now be geared towards the society. This will not only plug the unemployment gap but also boost the economy as youth contribute greatly to the productive economy,"Edroma said.
She also highlighted the need for digitization and local innovation which has been accentuated during the pandemic characterized by limited movement of people and heightened loss of jobs.
"Local innovation has been critical to survival during this period as everything moved to digital. However, ICT still presents a lot of opportunity and space to innovate and create jobs in areas of health, hospitality and education which have been severely affected by the outbreak of the virus. The youth skilling program seeks to create a world of job creators and entrepreneurs to mitigate the challenge of unemployment. I urge you to employ the skills attained here to create solutions for people around you." she advised.
The MTN youth skilling program employed a three pronged approach tackling digital and technical skills as well as an incubation phase for aspiring entrepreneurs focused on four thematic areas including agriculture, health, education and youth empowerment.
Brian Oluka, Ubinufu systemsteam lead, revealed that the training provided an in depth understanding of financial literacy such as legal and taxation, product management, customer experience, leadership essentials as well as computer and online essentials.
"The focus areas were selected with the knowledge that the future is digital and familiarity with computers will be necessary as the world embraces the fourth industrial revolution," he explained encouraging even more youth to pick a leaf towards innovating for social entrepreneurship.
The fourth industrial revolution, which started in 2016 is expected to transform the world's way of operating as it champions automation, machine learning, artificial intelligence and digitisation among others.
Subsequently, this calls for a technology savvy population if the country is not to be left behind.
Nagawa Hajara, one of the graduates in the program, who quit her job during lockdown to pursue urban farming appreciated MTN for the support saying she has been encouraged to start her business in spite of limited capital.
"The modules were perfectly curated to cater to our needs as business people and now I have learnt record keeping and financial management, taxation, innovation and digitization etc. I have learnt that even with the limited resources you have, you can still achieve what you want," she observes.
The inaugural graduation of the MTN youth skilling program comes after government allotted over Shs130b in the 2021/22 budget for digitization of the economy, which speaks to MTN's alignment and continued support towards the country's national priorities.
Comments
comments