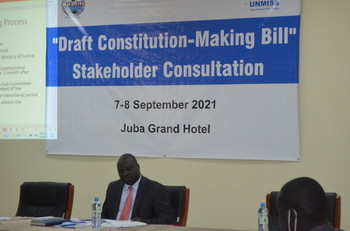 South Sudan has begun consultations on the permanent constitution-making process in Juba on Tuesday, a key component of the 2018 peace deal.
Speaking during the opening of the workshop in Juba on Tuesday, Nathaniel Oyet, the Deputy Speaker of the Revitalized Transitional National Legislative Assembly urged the Revitalized Transitional Government of National Unity (R-TGONU) to commit to funding the process.
"It is important to note that without requisite political, financial, and administrative support from the R-TGONU, the constitutional making process shall be wishful thinking. It shall never proceed or succeed. The R-TGONU should therefore take full responsibility to provide funds and political support for the country," he added.
For his part, former Minister of Federal Affairs Dr. Richard K. Mulla said the final constitution will be decided by 1,000 South Sudanese who will be present during the inclusive national constitution conference.
"The national constitution conference which is representative of the entire country will deliberate and pass the final decision just for adoption by the Constitution Assembly. I think it is much wider and it is more inclusive and less controlled by the executive than before," Dr. Mulla said.
Mulla further said, the final decision will be reached by either a two-thirds (2/3) majority of those present or by consensus of the national constitution conference.
Bol Joseph Agau, a member of parliament under South Sudan Opposition Alliance (SSOA) said, "The significance of the constitution-making process is the bedrock of having the law that gives the parliament (RTNLA) the right to constitute a new permanent constitution that will be the bases South Sudan as a country has been looking for."
After independence in July 2011, the government of the Republic of South Sudan initiated a permanent constitution-making process led by the National Constitutional Review Commission which was interrupted by the outbreak of conflict in December 2013.
A critical element of the governance reforms stipulated in the Revitalized Agreement on the Resolution of the Conflict in the Republic of South Sudan (R-ARCSS) 2018 is the process of making a permanent constitution.
Stakeholders say over 1,000 representatives from across the country will be called to deliberate on the national constitution conference to pass the final decision for adoption.
The consultation workshop on the draft bill of the constitution brought in stakeholders from various political groups in the 2018 peace agreement, civil society, faith-based, and the youths.
Comments
comments