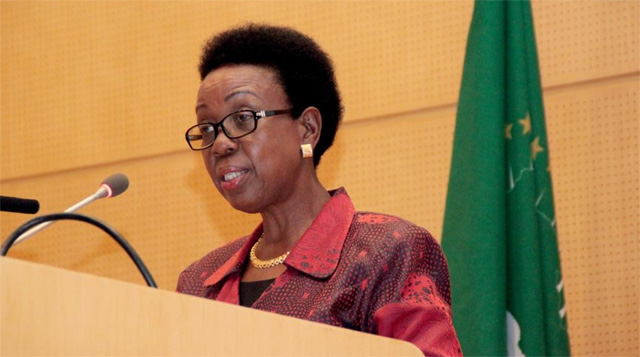 Uganda's Rhoda Peace Tumusiime has been nominated in the second edition of the New African Woman magazine's will popularly-received New African Woman Awards due to take place in Dakar, Senegal, on 12 and 13 April.
The final nominees for the much-anticipated New African Woman Awards 2017 have been announced, following weeks of public nominations from across the continent and its Diaspora.
Chosen in 12 categories, 68 groundbreaking women have made the final list which will now be adjudicated by a special panel of judges, and the winners in each category will be announced on 12 April at a Gala Dinner in Dakar, Senegal.
Rhoda Peace Tumusiime and others including the new UN Deputy Secretary-General, Amina J. Mohammed, Somalia's first female presidential candidate Fadumo Dayib, Gambia's doyen of democratic change, Fatoumata Jallow-Tambajang, Nigerian author Chimamanda Ngozi Adichie, the South African Olympic gold medallist Caster Semenya and her fellow countrywoman, former Public Protector Thuli Madonsela, are some of the names that made the final list from the thousands of nominations received.
Tumusiime was nominated in the category of 'New African Woman in Agriculture'.
Click here for the full list (https://goo.gl/UK82eD).
Organised by the pan-African bi-monthly, New African Woman magazine, the Awards – which celebrate and honour exceptional African women who have made a positive impact and contributions in their communities, and the continent at large, in the past 12 months – take place on the eve of the New African Woman Forum, which takes place at Dakar's Terrou-Bi Hotel on 13 April.
Rhoda Peace Tumusiime?
Her Excellency Rhoda Peace Tumusiime is the Commissioner for Rural Economy and Agriculture at the African Union Commission.
Prior to holding this post, she held various senior positions in the Government of the Republic of Uganda, including Commissioner for Agriculture Planning and Commissioner for Women and Development.
She holds a Bachelors' Degree in Agricultural Economics, a Master's Degree in Economics, Planning and Managing Rural Development, and a Diploma in Women and Development.
Throughout her career, she has demonstrated leadership and championed causes, including women's empowerment, poverty eradication and agricultural development.
Tumusiime aspires for a more collaborative effort aimed at overcoming obstacles to achieving sustainable African socio-economic development, including hunger, malnutrition and poverty as well as unemployment especially of the youth.