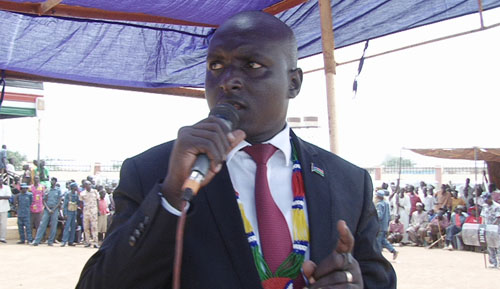 South Sudan's President Salva Kiir has issued a decree relieving Aweil state governor, Ronald Ruay Deng with immediate effect.
The decree read out on South Sudan Broadcasting Corporation (SSBC) on Tuesday announced the appointment of Yournew Wol Kuot as the new governor of Aweil.
The decree did, however, fail to mention the reason the governor was removed.
Deng, who hails from the same area was the former army chief of staff. Gen. Paul Malong Awan, is a close ally of the latter.
A local politician who chose to remain anonymous said the move might have been connected to the recent removal of the Sudan People's liberation Army (SPLA) Paul Malong Awan, Gen. Chief of Staff from the military active post due to his close alignment with Malong.
"There is also a fear that President Kiir would replace the 3rd Infantry Division commander, Gen. Deng Wol if Paul Malong Awan, who recently reconciled with the President, continued to travel to Aweil State because Wol is also a close friend to him," he added.
Another fear is the formation of a military coalition to use 3rd division forces and the notorious Mathiang Anyor militia against President Kiir if Awan is allowed to go to Aweil.
REPORT: Sudan Tribune
Comments
comments