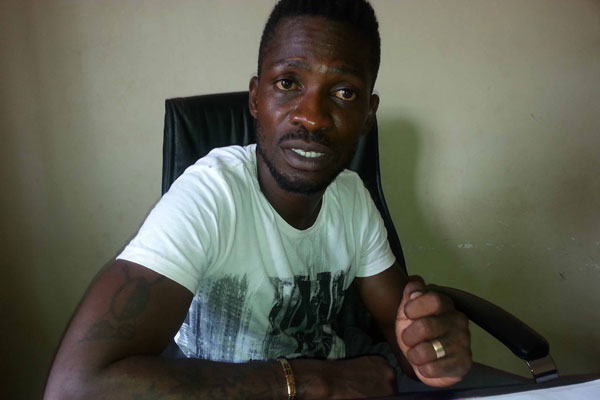 Opinion: Bobi Wine
THE MAFIA STATE
As we have been telling Ugandans, there is a big crisis in every sector of this country. Right now, our security is under scrutiny but as we all know, other sectors are not doing any better.
It is only a matter of time and the IMPUNITY which goes on EVERYWHERE will come to light.
Only last week, the IGP defended Boda Boda 2010 before Parliament. The same people are now being arrested and linked to committing all manner of atrocities against Ugandans. We all remember how the same group attacked the Makindye Magistrates Court last year to ensure that the IGP does not answer to charges of TORTURE.
They were not ashamed to beat up school children recently because they wore red head-veils! There have been so many complaints of torture, extortion, robberies, murder, rape, etc…but for all these years these guys were UNTOUCHABLE.
We must all remember that once a life is lost, once a limb is broken these cannot be replaced. As such, some people are now widows, orphans or crippled for life. Abalala baabatwalako buli kamu kebaalina bambi nebabakomya.
Only a few weeks ago, a notorious gang leader Sobi was on television boldly confessing to killing Ugandans. WHERE WOULD SUCH A PERSON GET THE CONFIDENCE IN A FUNCTIONING STATE??
My thoughts are with all their victims this morning, and with many innocent Ugandans who are usually arrested and tortured as a cover up for crimes committed by these gangs.
Friends, the problems of this Country started when President Museveni decided that staying in power forever is his main objective. That is the cause of all these illegalities and violations.
What we are seeing today are just symptoms. As we saw, the IGP wasn't praising Kitatta and group for curbing crime or anything, but for helping him CRACK DOWN ON THE OPPOSITION in Kampala!
Instead of focusing on their core mandate of preventing crime and keeping law and order, the police has resorted to doing politics.
They have to rely on such ILLEGAL MILITIAS to do the dirty work of terrorizing the masses and keeping them from exercising their right to self-determination.
It will take courageous, determined people to reverse this trend. Institutions of the state should be divorced from politics so that they serve all citizens of Uganda.
That the army has now come in to take over police work is only an indication on what the police has been turned into. The arrests definitely give a sigh of relief to many people, but that is not all. Human rights are inherent- they are not a favor from any government.
Malcom X asked "How can you thank a man for giving you what's already yours? How then can you thank him for giving you only part of what is yours?" We must therefore seek answers and full accountability, especially for people who have been executed extra-judicially by these gangs.
To you, the youth who are being used to comit ATROCITIES against your fellow Ugandans thinking that you're protected by the state, always remember that A TIME WILL COME when you're crucified by the same state.
Our aspiration is to live in a country in which every Ugandan is equal, free and dignified- 'Egwanga elyesimisa.' Where every life is valuable. Where no one is above the law. Where no one can kill a Ugandan and sleeps sound – knowing that they are protected by the state. It has been done elsewhere. It is possible in this our beautiful country.
Bobi Wine real names Robert Kyagulanyi Ssentamu is a Ugandan musician and Kyadondo East Constituency MP
Comments
comments