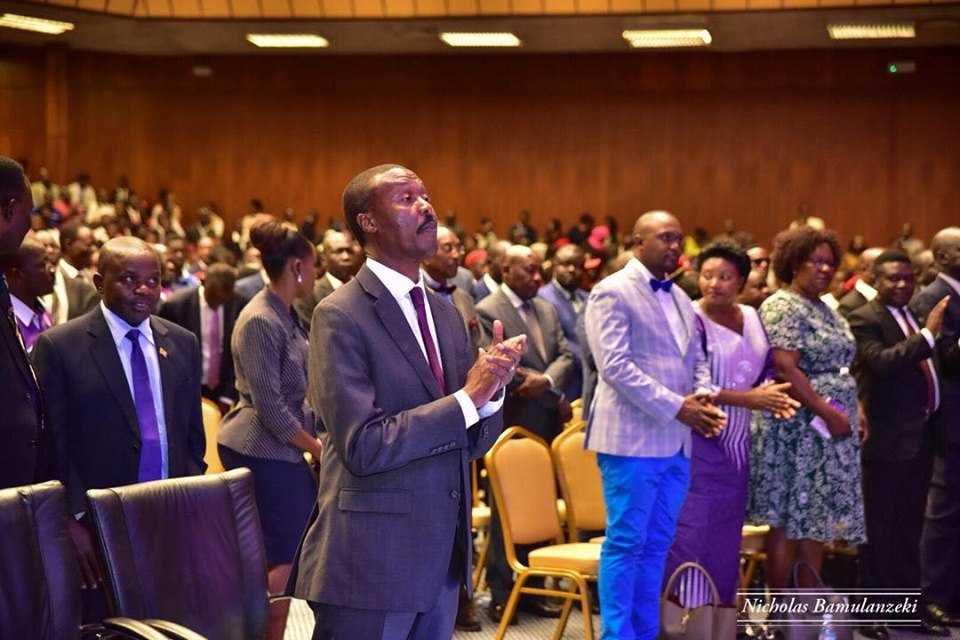 Maj Gen (rtd) Mugisha Muntu on Wednesday (May 22, 2019) launched his new Alliance for National Transformation (ANT) Party at a colourful function that was held at the Kampala Serena Hotel.
The function was graced by a number of renowned opposition figures including Democratic Party (DP) President Norbert Mao, Kyadondo East MP Robert Kyagulanyi aka Bobi Wine, former presidential candidate Abed Bwanika, Kasese District Woman MP and former Leader of Opposition MP Winnie Kiiza, Mityana Municipality MP Francis Zaake Butebi among others.
In his speech, Mugisha Muntu pledged to work with sister opposition political parties.
"This journey we've been walking, tough as it has been, we have closely related with the leaders, having discussions with them all the time. As the Alliance, if any of these leaders invite us for any discussion, we will be there at any point of day or night because we are involved in a common struggle. We may have different at times ideologies or methods, never the less, we have a common purpose which we all subscribe to," he said.
"As ANT, even today as we launch the new Party, we look forward to working with you (opposition leaders) very closely on whatever is necessary for us to combine efforts and be able to hasten the exit of this regime and put this country back on track, any place you invite us, we will be there," he added.
The Team
Mugisha Muntu was been unveiled as ANT's National Coordinator. He will be leading the party to the National Delegates Conference. Muntu will be deputized by  Nyanja Musoke, who will be National Deputy Coordinator-Operations.
Former FDC Vice President Eastern Region Alice Alaso was unveiled as coordinator-Finance and Administration and  Martin Okumu will be Coordinator for Research and Policy.
The party appointed Wilberforce Seryazi as the Party Spokesperson and Sulaiman Kakaire will be his deputy.
Christine Abia will be National Treasurer with Ismail Badoge as her deputy.
The party also unveiled a team of elders constituting of Yokasi Bikande, Dan Wandera Ogalo and former FDC coordinator for Diaspora Dr. Muniini Munera.
Barbra Allimadi will be the party's coordinator for International Diaspora Affairs while Florence Ibi Ekwau will be Coordinator for Parliament Group.
Regional coordinators include; Sewava Serubiri for Central Region, Jackson Wabyona for Western Region, Hannington Basakana for Eastern Region and Phoebe Ochan for Northern region.
Abubakar Makanga will head the party's interim and Ambassador Edith Grace Sempala will head the Women's League.
Dan Mugarura Bakaaki for was appointed coordinator for Election Management, Former Makerere University Guild President David Bala was appointed coordinator for Education and Institutions, , Martin Okumu for Research and Policy, Siraj Nsanja for Workers, Prossy Naikoba for Civil Society and Yunis Okullu for Religious Affairs.
Sub regional coordinators for Bukedi, Rwenzori, Buganda West, Sebei, Luwero, Ankole, Lango, Teso, Kigezi, Buganda East, Bugisu, Toro, Busoga, Acholi, Central Buganda, West Nile and Karamoja regions have also been appointed.
(Photo by Nicholas Bamulanzeki)
Comments
comments