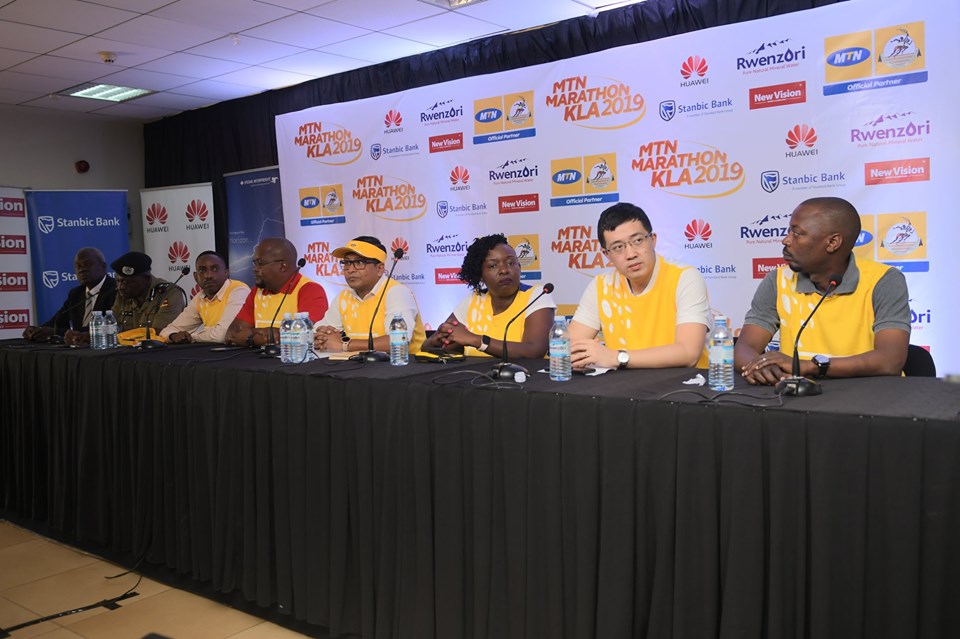 MTN Uganda together with its partners Huawei, Stanbic bank, New Vision, Rwenzori and Spedag Interfreight on Tuesday (15th October 2019) announced the 2019 edition of the MTN Kampala Marathon.
The MTN Kampala Marathon, now in its 16th year has been a mainstay on the Ugandan sports calendar giving participants "A GOOD REASON TO RUN" because apart from running for health and fitness, they get to contribute towards a community benefiting project. The proceeds from this year's marathon will go towards improving maternal health services across the country.
"There are an estimated 336 deaths per 100,000 live births making Uganda's maternal mortality one of the highest in the world. The proceeds from the marathon and regional runs will be used to upgrade/improve maternal services in health centre IV facilities across the country," said Sen Somdev, MTN Uganda Ag. Chief Marketing Officer.
"80% of the maternal and newborn deaths are preventable with the implementation of known evidence based high impact interventions and these are the interventions that the proceeds from the marathon will be dedicated to implementing. And that's a good reason to run." He added.
Launched 15 years ago, the MTN Kampala Marathon has raised close to UGX 3bn which has benefitted several causes and communities; from helping expectant mothers and resettling people displaced by war in northern Uganda, relocating mudslide victims in Bududa, to delivering clean water and improving sanitation in communities/schools, and most recently improving the state of maternal health services. The MTN Marathon has and pledges to continue playing its role in connecting and uniting Ugandans to causes that make a difference in the lives of thousands (if not millions) across the country.
The 2019 edition of the MTN Kampala Marathon will be held on Sunday 24th November starting at the Kololo independence grounds with runners participating in either of 4 categories including; the full marathon (42Km), half marathon (21Km), 10Km race and 5Km wheelchair race/fun run.
Previously, the wheelchair race was held a weekend before the main marathon event however, this year both races will take place on the same day to foster inclusiveness.
This year, the MTN Kampala Marathon will be preceded by regional runs in the towns of Soroti, Arua and Masaka on Sunday 3rd, 10th and 17th November respectively. Registration for these runs will be UGX 10,000 cash or UGX 8,000/- per runner using MTN MoMoPay and the proceeds will be utilized for the same cause in the same communities.
Special attention has also been made to ensure every participant has a vest that fits and enables a comfortable running experience.
Key Dates and Registration Details of the 2019 MTN Marathon Season
Race
Race date
Venue

(for flag off)

Registration fee
Registration and Kit collection dates
MTN MoMo
Cash
Starts
Ends
Soroti Marathon

(10Km)

Sun 3th Nov '19
Soroti Independence Grounds
8,000
10,000
16th Oct '19
01st Nov '19
Arua Marathon

(10Km)

Sun 10th Nov '19
Golf course grounds
8,000
10,000
21st Oct '19
08th Nov '19
Masaka Marathon

(10Km)

Sun. 17th Nov '19
Masaka Recreational Grounds
8,000
10,000
28th Oct '19
15th Oct '19
MTN Kampala Marathon

(42Km, 21Km, 10Km, 5Km Wheelchair race/Fun run)

Sun. 24th Nov ,19
Kololo Independence Grounds (Airstrip)
23,000
25,000
12th Nov '19
22nd Nov '19
Comments
comments