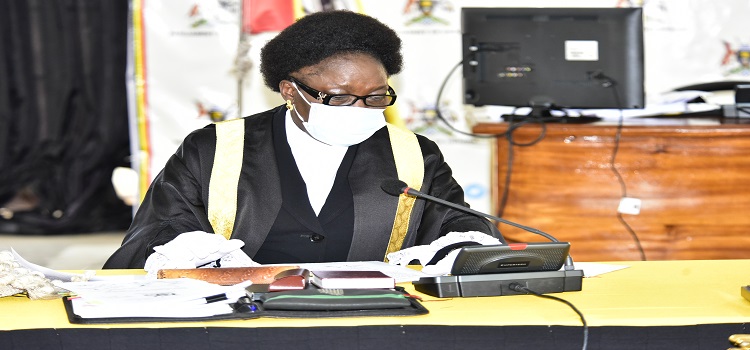 The speaker of parliament Rt. Hon. Alitwala Kadaga has summoned the Cabinet Minister of Finance, Planning and Economic Development, Matia Kasaija to divulge the variances in figures in the budget he read to the country and that which was passed by Parliament last week.
"The gist of the Budget Act was that the Parliament was at that time not involved in the budget process and would be surprised on the day of the budget, we have been moving well over the years and that is why we sit very long hours to receive the budget, analyze it and also pass the appropriation act. The Minister is required to come and explain the variances between the appropriation act and the figures he read on the day of budget," Kadaga said while addressing plenary on Tuesday, June 16.
Kadaga's summon comes just a few days after the Minister read to entire country the 2020/21 annual budget of a total of Shs 45.5 trillion following the approval of the same budget by Parliament on April 24, 2020.
Amos Lugoloobi, Ntenjeru North legislator and also the Budget Committee Chairperson noted that there are a lot of inconsistencies between the budget figures that were read by the Minister and those passed by Parliament.
Lugoloobi informed legislators that despite Parliament approving Shs 400bn to expedite payment of arrears owed by government to private sectors firms commencing July, 2020, the Minister in his speech indicated that Shs 673 bn had been allocated for this.
Lugoloobi maintained that there are laws governing the budget process, therefore, if government wanted to make any changes they would have first sought parliament's approval.
"The increased access to credit at the Uganda Development Bank to offer low interest financing to manufacturers, the budget provided for Shs 103bn, however in the speech, the Minister gave a figure of Shs1.45 trillion which is a huge variance," Lugoloobi noted.
Lugoloobi's complaint was supported by other members of parliament who also wanted Kasaija to be sent to the Parliament Rules and Privileges committee to be expound on the matter.
The Finance, Planning and Economic Development minister, Matia Kasaija is expected to appear before parliament on Wednesday, June 17 to shed more light on the controversy.