"If you are not willing to learn, no one can help you but if you're determined to learn no one can stop you."
I was recently honored with an invitation from the Petroleum Authority Uganda to participate in a 3-day visit to the country's oil fields, one which I accepted without haste.
With the public being fed with a lot of information about what is taking place in the various oil fields, I was expectant to see and confirm by myself whether or not the reports were true. I was very eager to learn all about the processes that our oil will go through and how the country will benefit from this God given gift.
Over the past months, reports have claimed that government has already started mining oil and that it is stealthily selling it without accountability.
Together with a team of social media influencers we were lucky to have a feel of everything taking place in the oil fields in Uganda through a workshop and a visit to the wells in Hoima, Western Uganda.
The aim of the workshop was to give media personnel a feel of what is happening so as to change the narrative that the government was selling the oil stealthily without the knowledge of the public.
Day One
We arrived at Protea hotel which was the assembly ground before setting off for Uganda's oil city of Hoima.
The permanent secretary, Ministry of Energy and Mineral Development, Mr. Robert Kasande gave his welcoming remarks and a brief of what we were to expect at the oil fields.
In company of social media influencers, government officials and workers from Petroleum Authority Ugandan, we set off for Hoima at around 3:00PM.
It's a swift drive to Hoima but because of the many stopovers we made along the way, it took longer than usual.
We reached Hoima at around 8:00PM and checked in to Milkah Hotel where we would stay for the rest of our time.
After having dinner, off we went for our rest.
Save for the long journey, I wouldn't describe our day one as having been eventful or busy for any of us.
Day Two
After our breakfast served by Milkah Hotel, we set off for our first destination, King Fisher oil field.
The field is three hours away from Milkah Hotel in Hoima town where we had stayed.
Along the way, Bob Felix Ocitti, a senior Petroleum Geoscientist and Michael Weteeka who led the team gave us needed information about the King Fisher oil field which has they said benefited 29 villages in new Kikuube District in terms of roads, resettlement, job and huge food market.
Kingfisher is one of the biggest resource fields with 458 million barrels of oil stock tank in place and 186 million barrels is recoverable meaning, technology can allow the engineers to produce 186 million barrels of fuel at Kingfisher oil field and also expected to produce 40,000 barrels of crude oil per day.
"For every project to benefit the natives of the affected area, the government must learn how to exist with the people of that area and this the reason why resettlement areas were gazette for the affected people at Kingfisher," Mr. Ocitti tells us as we drive to Kingfisher.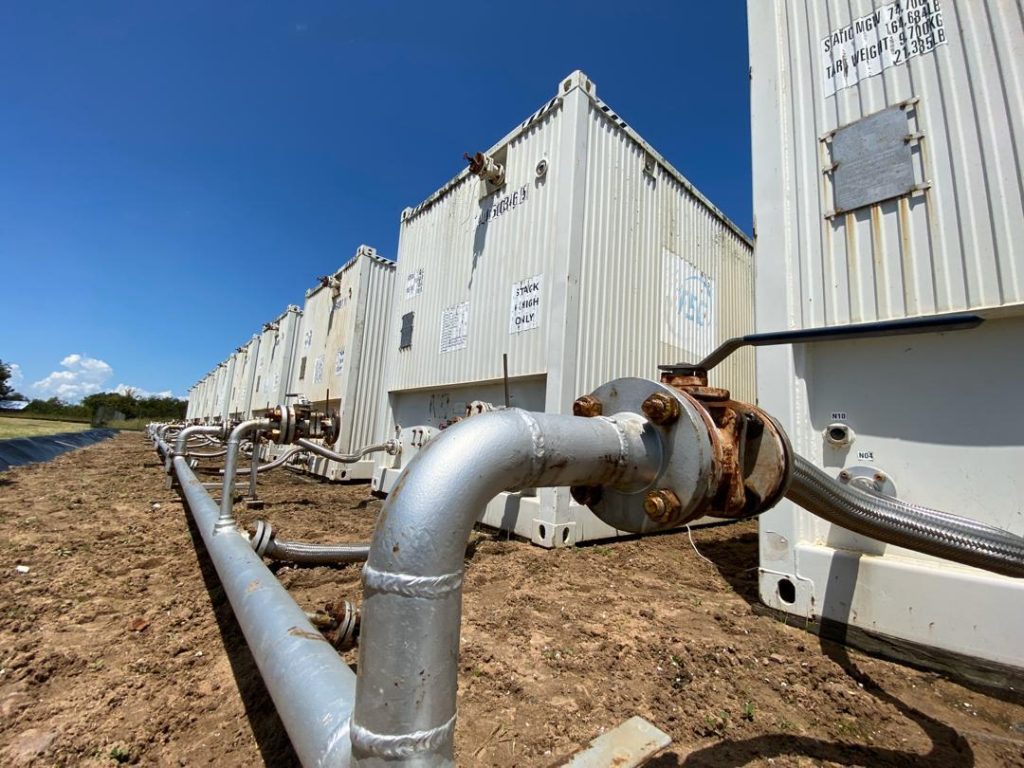 At King Fisher, we are welcomed by the officials working there who gave us a detailed message about the place and how they have coexisted with community.
There are four Oil wells at the place which are to be used for refining.
After a catchup with the officials and visiting the wells at the place, we were treated to luncheon before departing for Kabaale International Airport.
I must say that the discovery of oil is doing so much for Hoima. If you have moved around Hoima town, you must have realized that it has one of the smoothest roads in the country.
We arrived at Kabaale international airport whose construction commenced in 2018 and expected to be complete by February 2023.
"As a way of giving back to the community, 38% of the 912 workers at this airport are natives of Bunyoro region," Mr. Ocitti said.
Kabaale International Airport sits on a total 29.7sqkm of land with a 3.5km runway, up to 5km length and 45m width.
The airport is expected to be officially operational in February 2023. Kabaale International airport is without a doubt bigger than Entebbe and suitable to handle both cargo and passenger aircrafts.
For every time there is machine activity, there has to be waste released and we couldn't help but ask about waste disposal in the whole oil mining process.
We were led to a EnviroServ, the site where petroleum waste disposed off.
"The facility came into effect in 2013. The first batch was the liquid waste that was produced during oil exploration."
"EnviroServ doesn't just bring waste to their facility before knowing what it is that they are dealing with. It has a laboratory that tests what kind of waste they're dealing with and treatment is done thereafter.
This was the last area we visited on Day two.
By the end of the day, I had realized that oil is already directly impacting lives of the communities that surround the wells.
Day Three
Day 3 being our final day and also being the first day of the new month of November we expected a very long day. Our first stop was at Tilenga Project Area in Buliisa district.
The name Tilenga is derived from the two native names from the Uganda Kob (Antelope), called Til in Acholi and Engabi in Lugunda.
If you have been following the news, then you should remember a claim by former sports journalist – now preacher Joseph Kabuleta that crude oil that was already being exported.
According to the best of my knowledge and what I witnessed, I can confirm that this is not accurate.
The test crude oil is intact in Buliisa district at Tilenga where there are over 45000 barrels and they are kept in Bitutainers found in 5 locations.
We managed to visit one of them located at Kasemeni 1 .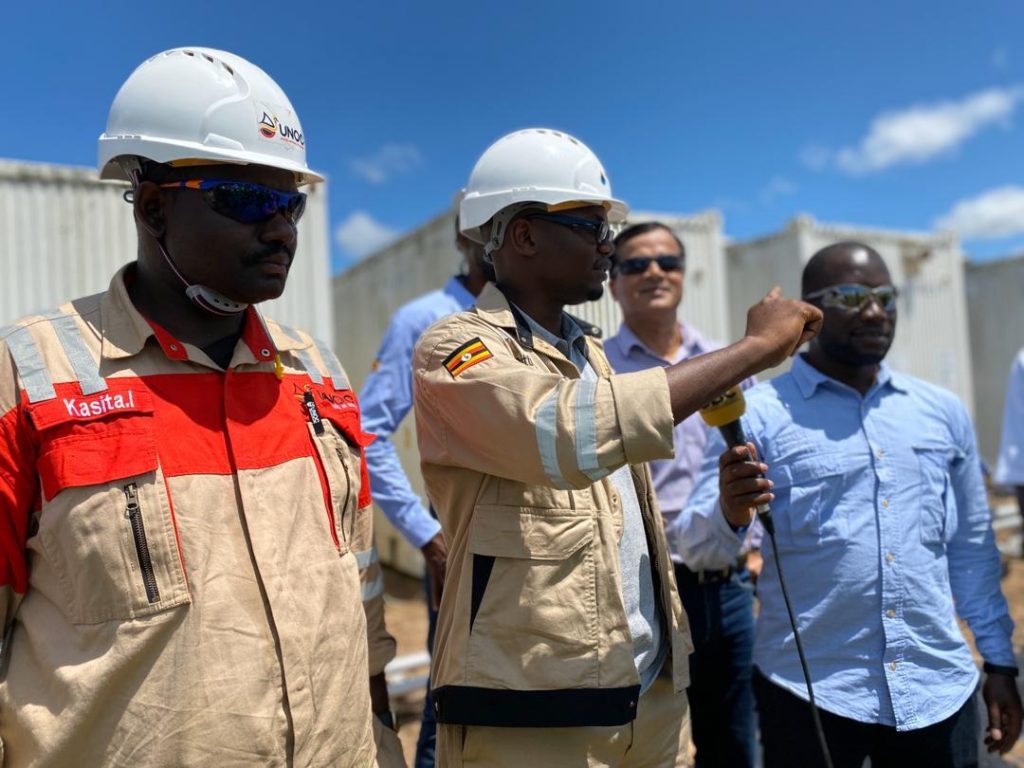 Most times oil refineries flare (destroy) test crude oil because it can't be used to manufacture any petroleum product. So, I can assuredly say that our fuel is still so intact.
As we visited the neighbouring communities, we came to learn of the development projects that Total E&P has put up to better livelihoods of compensated persons in the Oil region.
There were about 30 primary residents in Buliisa district whom Total compensated through land acquisition where brick houses, compared to mud thatched ones were constructed for them for resettlement.
Oil discovery has brought about benefits in the Oil regions and Uganda at large, some of which are infrastructure development like construction of roads, schools and health centres.
We visited Ndandamire Primary School, just around the Tilenga Project and discovered that Tullow oil has constructed for them a computer laboratory as part of their CSR activities.
To climax our visit, we headed to The Uganda Petroleum Institute ,Kigumba (UPIK) in Kiryadongo district which was as result of the Presidential Directive in 2009.
Away from the main reason why we went to Hoima, I managed to tour and visit my country.
Uganda is very beautiful.
I was out of the hassle and bustle of the city for three good days. I managed to appreciate the energy Uganda government is putting onto development and also enjoyed the meals and hospitality of the people in Hoima and Petroleum Authority Uganda.